Travel insurance aims to protect you when things go awry, and it can cover a variety of issues that might happen when you're taking a trip, including canceled flights, medical emergencies and baggage delays.
HTH Travel Insurance sells multiple types of travel insurance policies. Some examples are coverage for pre-existing conditions, single-trip plans, annual plans and more. Let's look at HTH, the plans the provider offers and whether purchasing a plan is right for you.
HTH travel insurance plans and costs
As mentioned, there are multiple kinds of travel insurance. Are you participating in extreme sports? Is there a chance you'll need to cancel your trip? Proper insurance can reimburse you for unforeseen events — as long as you've purchased coverage in advance.
Single-trip plans
Single-trip plans are insurance policies that provide coverage during a specified time period. You'll travel once and then come home. This contrasts with multi-trip or annual plans.
HTH offers two types of single-trip plans:
Plans for people with primary health insurance in the U.S.

Plans for people who don't have primary insurance.
To figure out the cost of a plan, we input a search for a 45-year-old from California traveling for 23 days in January.
With those parameters, HTH returned two quotes, which included the same coverage for travelers whether they had a health insurance policy or not.
The Voyager Essential plan — for those without primary medical insurance — was cheaper, coming in at $44 for its least expensive option. However, this plan had a 180-day exclusion for pre-existing conditions.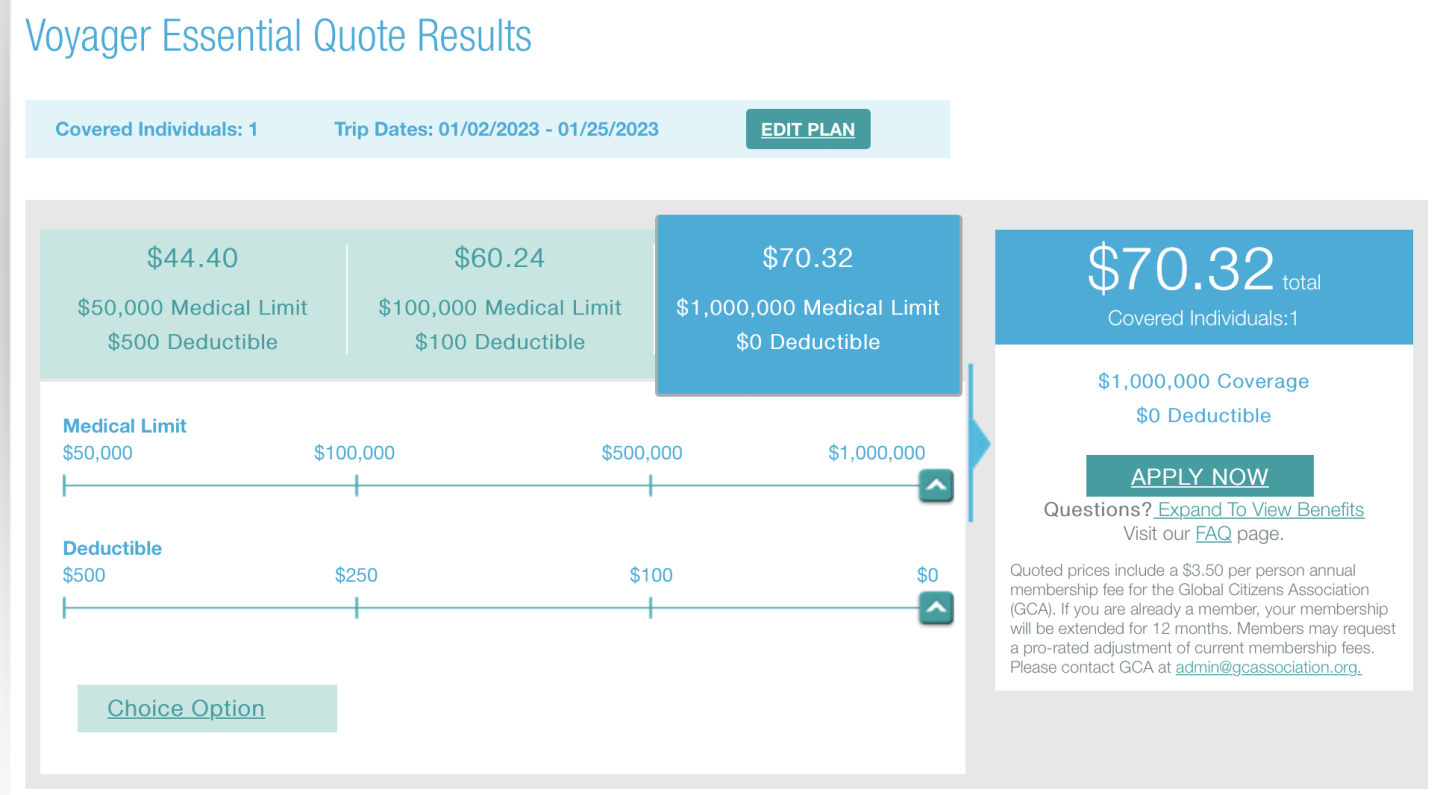 For those with primary medical insurance, the cheapest Voyager Choice plan was $49.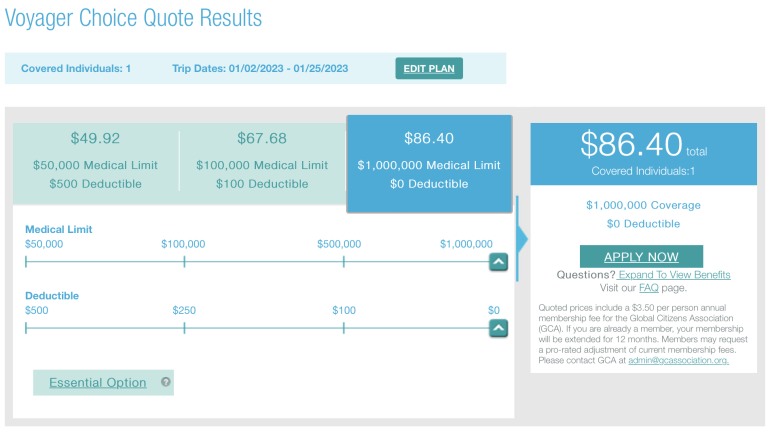 Note that these quotes offered only medical insurance.
HTH has three plans that cover trip interruption and trip delay.
For this type of insurance, we input a search for a 25-year-old Ohio resident traveling to Switzerland for two weeks in June with a trip cost of $6,500.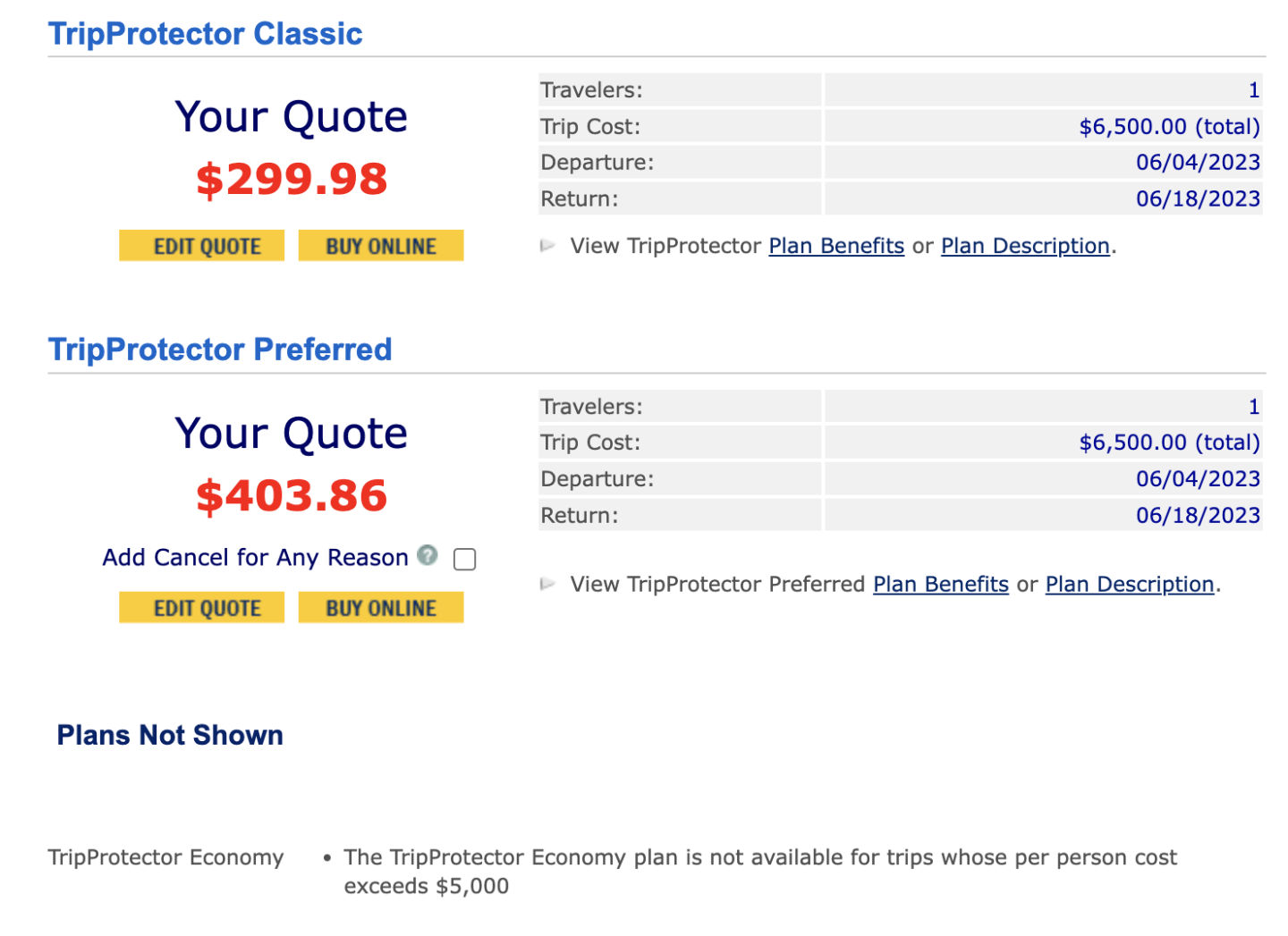 The traveler's results showed she was eligible for two of the three plans. The cheapest plan came in at $300 and included 100% of the trip cost in case of cancellation, up to 150% of the trip cost in case of trip interruption and a variety of other benefits, including medical insurance coverage.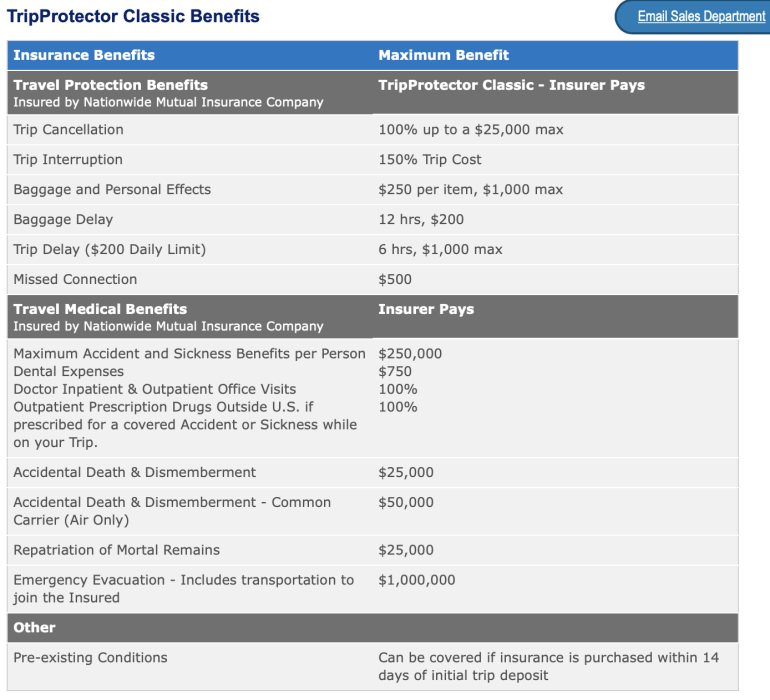 Annual plans
Annual plans from HTH are meant for those who travel often or who are away for longer than six months.
HTH offers two types of annual plans:
Plans for standard travelers.

Plans for maritime crew members, missionaries and students.
Both plans provide only medical coverage and don't offer other trip protection benefits.
🤓Nerdy Tip
Don't want to shell out for travel insurance? A variety of travel credit cards offer complimentary trip insurance assuming you pay for the trip with your card.
For this example, we sought an annual plan for a 32-year-old man who will be primarily in Thailand. HTH returned one result, featuring a plan costing $316 per month and requiring a $10,000 deductible.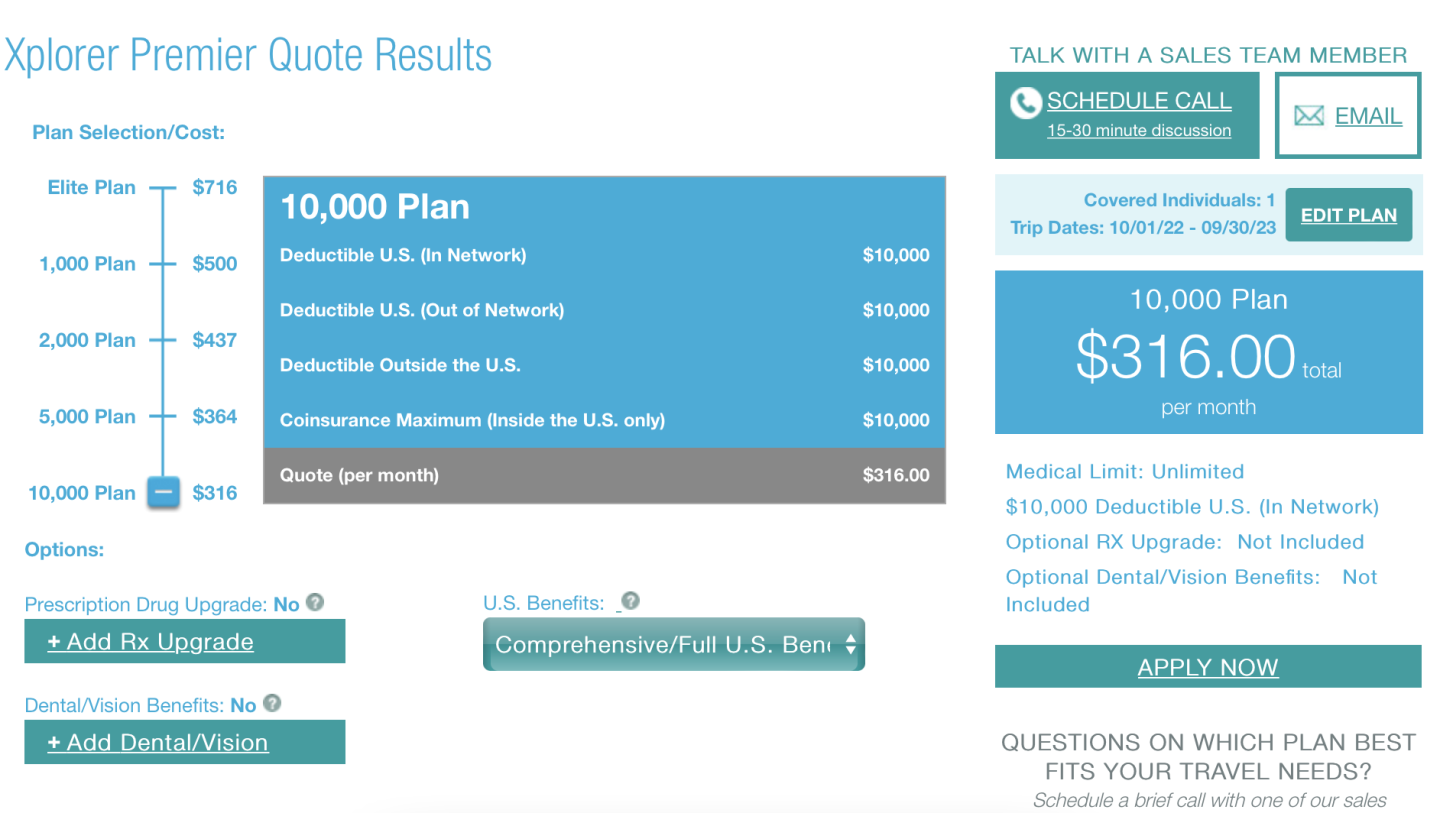 It's worth noting that the monthly cost dropped to $170 when we dropped plan benefits within the U.S. Rates will vary by provider and factor in your age, destination and the deductible you choose, so it's important to compare prices before purchasing a plan.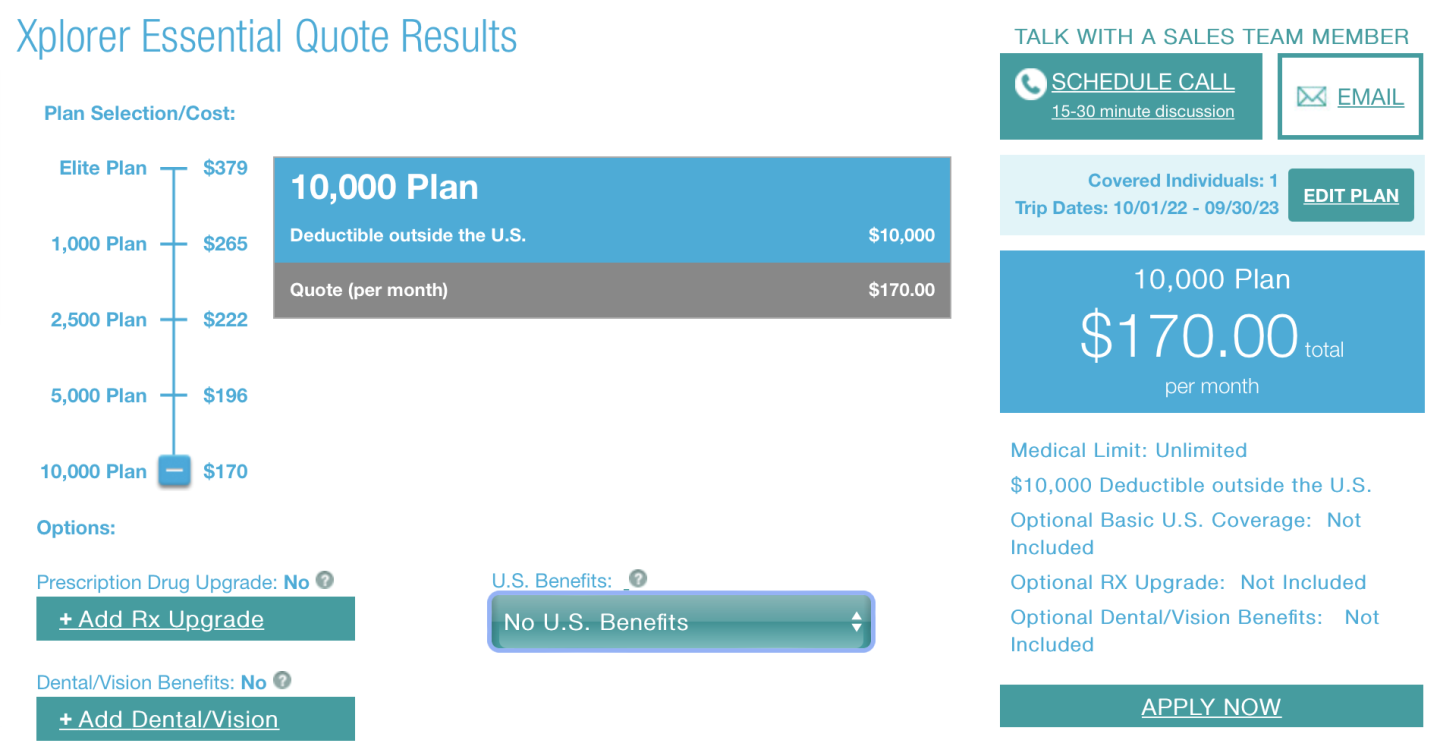 Which HTH travel insurance plan is best for me?
Not everyone has the same needs when traveling, so not everyone should choose the same insurance policy. Here are some things to consider before purchasing a plan.
Look at coverage details
Scour your plan benefits to see what's covered. If you won't need trip interruption insurance, don't buy it. Similarly, depending on your health status, you may feel comfortable purchasing a less expensive plan with fewer medical benefits.
Think long term
How often do you travel? If you're frequently out of the country, you'll want to weigh the cost of purchasing multiple single-trip plans versus one annual plan. Do the math and see where you'd come out ahead.
Use existing coverage
Many travel credit cards offer travel insurance, though coverage levels will vary. To qualify for this complimentary insurance, you'll need to pay for your trip using your eligible card. Common card benefits include trip interruption insurance, baggage delay reimbursement and emergency medical insurance.
How to choose an HTH plan online
If you want to buy an HTH travel insurance policy, you'll need to navigate to its website: hthtravelinsurance.com.
From there, you can input your personal information and receive a quote. Once you've decided on a plan that fits your needs, you'll be able to apply for the insurance policy you'd like to purchase.
What isn't covered, including coronavirus
Most plans will have coverage for things like emergency medical care, but there can be gaps that you might not expect. Generally speaking, things like high-risk activities, medical tourism or intentional acts of harm are not covered by most travel insurance policies.
Coronavirus considerations
Not every travel insurance plan covers incidents of coronavirus. If this is something for which you'll need coverage, be sure to check the fine print of your policy and plan benefits.
Frequently asked questions
Does HTH offer travel insurance?
How much does HTH travel insurance cost?
Does HTH have international travel insurance?
Is travel insurance worth getting?
HTH travel insurance recapped
HTH offers a few travel insurance plans depending on your needs, including options for single- and multi-trip policies. Before you buy a plan, be sure you've understood its coverage and costs, especially compared with other policies.
How to maximize your rewards
You want a travel credit card that prioritizes what's important to you. Here are our picks for the best travel credit cards of 2022, including those best for: