The Deutsche Bank Aktiengesellschaft (DB) stock price has tumbled as fears of a banking crisis loom. In a historical event, the bank's 5-year Credit Default Swap surged by 31 basis points, marking the instrument's most significant uptick in history.
Considering Deutsche Bank's interlinkage to the global financial system and the embedded risks in the sector, many investors might be wondering whether it is time to head for the exit door.
Here are a few variables to consider if you are a Deutsche Bank stockholder or someone with a general interest in the subject at hand.
Deutsche Bank's CDS Woes Assessed
A credit default swap is a type of insurance contract that a financial entity uses to transfer or hedge against credit risk. A typical swap contract exchanges a fixed payment for a floating payment, and in Deutsche Bank's case, numerous counterparties must have identified a structural break in the firm's 5-year asset base.
Although Deutsche Bank's stock price slump implies that its CDS surge is idiosyncratic, a closer look indicates that rising CDS contract costs are a regional phenomenon, with most EU banks suffering from rising protection costs.
We believe that medium to long-dated credit risk will continue to rise in Europe because of factors like the region's inverted yield curves, continuous uncertainty about inflation, and cyclical business risk. Moreover, Deutsche Bank has increased its provisions for loan losses by 2.18 times year-over-year, which many market participants might consider as a leading indicator for a credit event.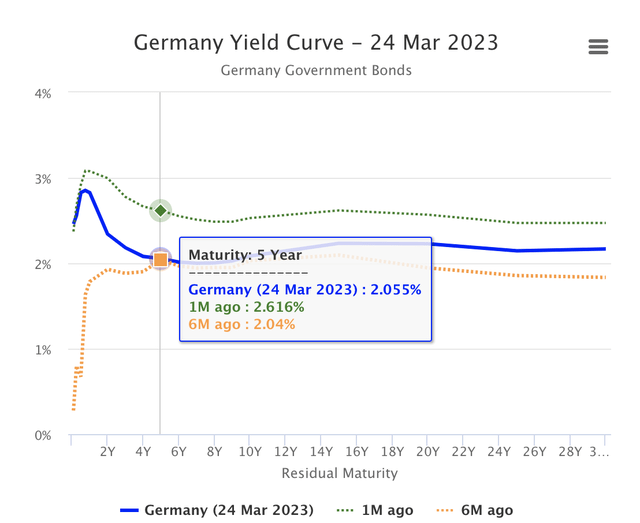 In theory, a diversified portfolio of CDS contracts is best assessed by the category's salient features instead of looking at each contract in isolation. Therefore, considering the previously mentioned risk factors, such as an inverted yield curve, widening credit spreads in Europe, and the aging schedule of a bank's contracts, provides the best indicator of what lies ahead. The bank's rising insurance contracts might spook investors; however, a general risk assessment is required to consolidate the argument.
General Risk Assessment
A closer observation of Deutsche Bank's asset base provides evidence that it primarily hosts assets at amortized cost, meaning it assumes the securities will be held until they are repaid. In our opinion, this poses a significant threat to the bank as the longer end of the German (and European) yield curve is inverted, and rising CDS costs make it more difficult to hedge the embedded credit risk.
Furthermore, Deutsche has various assets held through its profit and loss statement, meaning it actively trades or holds them for sale, which provides the bank with flexibility and less need to insure its bets. Nevertheless, considering the poor 2022 that the financial markets experienced, an urgent selloff by Deutsche will likely result in unrealized losses.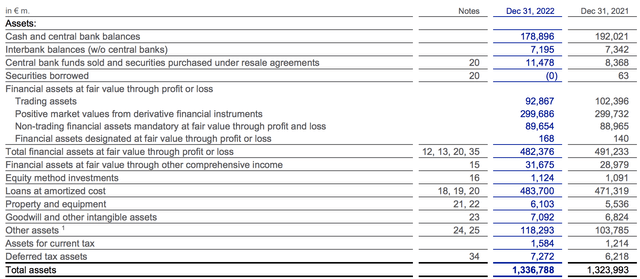 Generally speaking, Deutsche is well-capitalized, as portrayed by its liquidity coverage ratio of 142%. The liquidity coverage ratio measures liquid funding available relative to the required 30-day liquid funds. It essentially determines whether the business can service an abrupt drag on deposits, which, based on the evidence, it can.

Additionally, unlike many regional banks that primarily rely on deposits as a funding source, Deutsche has access to external longer-term funding sources, which are generally considered less risky than short-term liabilities. Nevertheless, panic among the masses will most likely result in a drawdown of the bank's short-term liquidity, consequently lowering its achievable income.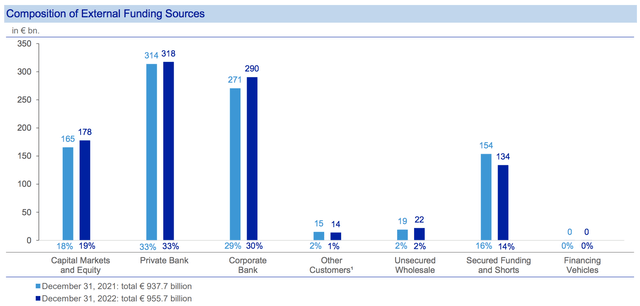 Lastly, an ex-post stress test relating to the interest rate environment and the economic value of Deutsche Bank's asset base conveys that a continued unfavorable economic environment poses a severe threat. Although such a scenario probably will not be sufficient to cause an asset-liability mismatch, it will provide significant recapitalization challenges.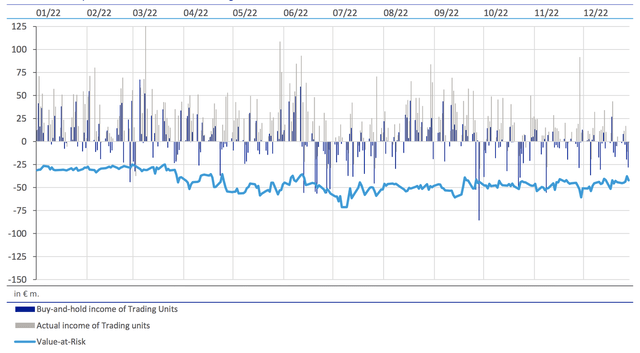 DB Stock Valuation and Risk Premium
At a price-to-book ratio of merely 0.27, it can be argued that Deutsch Bank's stock is relatively undervalued. However, such a claim would only hold true if looked at in isolation.
We deemed Deutsche undervalued in our previous coverage of the stock; however, the likelihood of a rising equity risk premium must not be neglected. At this time, we feel it is impossible to determine Deutsche Bank's exact risk premium due to the outlying nature of current events within the European banking arena. Thus, we downgrade our initial undervalued consensus to neutral.
Final Word
Limitations
This study observes the salient features pertaining to Deutsche Bank's credit-based business. And although the bank generates approximately 52.5% of its income from interest-bearing operations, it possesses a diverse range of other business units that must be considered before drawing a holistic conclusion. Furthermore, the firm's noteworthy CDS event remains opaque, providing significant limitations to the analysis.
Key Findings
Our analysis shows that European CDS insurance contracts were bound to skyrocket as the regional yield curves remain inverted. Deutsche Bank is well capitalized with an adequate amount of stable funding; however, it can be gleaned from its increase in loan loss provisions that the bank expects a struggling debt market. Furthermore, there is little evidence that Deutsche will suffer from maturity mismatches; however, an abrupt flight to safety from depositors might tap the bank's funding sources.
Due to our belief that Deutsche Bank's current equity risk premium is near impossible to determine, we have decided to downgrade its stock from Buy to Hold until further notice.