Delcath Systems (NASDAQ:DCTH) is a hybrid medical device company for the treatment of primary and metastatic liver cancer. It is very common for cancers to spread to the liver and for these patients to die not from primary cancer but from cancer that metastasizes to the liver. Delcath offers the first minimally invasive liver cancer treatment which offers additional advantages from current treatment options such as being administered on an outpatient basis, being repeatable, and treating the entire organ.
Investment Thesis
The company has been on a multiple years journey to gaining FDA approval but it is very likely to achieve this milestone this summer. The expected approval is for just one type of cancer that metastasizes in the liver but will allow Delcath to begin commercial sales in the U.S., to pursue approval for other cancers. and to expand sales in Europe where it is already commercially active. Management has begun work with medical centers and obtained financing in preparation for a commercial rollout subsequent to FDA approval.
The U.S. Opportunity
Delcath has focused on gaining FDA approval for the treatment of metastatic ocular melanoma ("mOM") with the intention of pursuing opportunities in other types of cancers in the future. The company began sales in Europe of a stand-alone device named Chemosat and pursued FDA approval for its Meblez Kit, which included a device and drug, in 2012. The Meblez Kit was unanimously turned down by the FDA advisory committee due to a 4$ incidence of death and other adverse effects such as hypertension, renal failure, and bone marrow suppression. A subsequent patient study in 2013 resulted in a 7& incidence of death and a back-to-the-drawing-board moment for Delcath as the company underwent restructuring from the management team down.
Delcath has developed a new filter system and made changes to address FDA concerns. The lead product is now the HEPZATO® KIT, which consists of injected melphalan hydrochloride through a hepatic delivery system that removes and purifies a patient's blood from the liver before returning the blood to the body,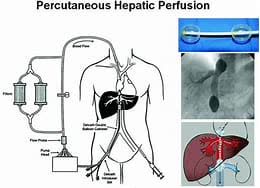 The HEPZATO KIT has registered very favorable outcomes in the recent Focus study which surpassed expected parameters including resulting in zero deaths. Based on the improved results, Delcath resubmitted its new drug application ("NDA') for the use of HEPZATO for the treatment of mOM to the FDA, which has established August 14th as the decision target date as outlined under the Prescription Drug User Fee Act ("PDUFA").
HEPZATO, unlike other treatments, works on the entire organ capturing cancer cells that are undetected. Patients are seen on an outpatient basis after a procedure that is minimally invasive and lasts only a few hours as opposed to other treatments that are invasive and require hospitalization.
The U.S. Commercialization Plan
Delcath has been granted early access program ("EAP") status by the FDA. This status allows for the use of HEPZATO for patients with a terminal disease for which there is no other option. Delcath has been utilizing the EAP to work with medical centers to train staff on the use of the HEPZATO.
The targeted market is approximately 800 ocular metastatic patients per year in the US. The market size allows for a focus on just a few medical centers instead of needing to penetrate a larger customer base. Management expects to leverage the EAP relationships into an average of four procedures per month at ten medical centers within a short time subsequent to FDA approval. A team is being assembled to provide educational services to generate referrals to the partner medical centers and to establish a total of about 20 active participating medical centers.
Insurance reimbursement will transition from a C code at first to a J code, C codes are for Medicaid reimbursement for outpatient services and are usually temporary. Private insurance companies tend to follow government insurance reimbursement policies and are expected to qualify HEPZATO for non-orally administered drugs, the J code. Reimbursement for HEPZATO could be somewhere between $100K and $800K per patient when compared to reimbursement rates for similar drugs. Kimmtrak is cited in the Delcath investor deck as commanding $830K reimbursement per patient while again according to the investor deck is only admissible to 45% of the nOM patient population. Delcalth management believes that the U.S. opportunity in ocular cancer is worth $450 million.
Delcath's orphan drug status for HEPZATO gives the company a competitive advantage in pursuing opportunities to expand into other cancers. This status allows for cost write-offs and other advantages in drug development.
The company has reduced its supply chain potential problems by manufacturing its devices and by maintaining an ample supply of the active drug which is a generic made by several manufacturers and in abundant supply.
Europe
Delcath sells the delivery system as a stand-alone medical device in Europe under the Chemosat name. Chemosat has received certification under the European Medical Devices Regulation. Management thought that it would be unlikely before the Focus trial to get approval for the combination drug and device based on the prior trial data. In order to gain approval for the device clinical data was not necessary. All that needed to be proved is that the device delivered melphalan to the liver and that it was manufactured in appropriate conditions.
The company has experienced unreliable insurance reimbursements in Europe. Each E.U. country has its own FDA-type regulatory body. The results from the Focus trial offer the company the opportunity to pursue regulatory approval in each of the 30 EU nations in order to establish fixed insurance reimbursement rates.
Competitive Landscape
In January 2022, Immunocore Holdings plc (IMCR) announced FDA approval for KIMMTRAK. This drug is suitable for treating 45% of nOM patients while HEPZATO can treat 100% of this group. Management believes that it is likely that both treatments will be prescribed with the only question being in what order.
In a recent conversation with CEO Gerard Michel, he cited that there are numerous companies developing potentially competing devices such as Boston Scientific Corporation (BSX), Medtronic (MDT), and Merit Medical Systems (MMSI), along with many others.
Financial
Delcath has undergone numerous cap raises over its three decades of history but almost as numerous reverse stock splits have kept the share count to about 11 million. The market cap is $83 M. There is a debt of about $10 million. The company recently announced an $85 million financing package that is expected to finance the commercial rollout and carry the company into profitability. No guidance has been provided as to the burn rate to reach profitability once commercial operations begin in the U.S. The current burn rate is about $6 million.
What is attractive to me is that revenue of $60 million is sufficient to reach profitability. This is just a small percentage of the $450 M U.S. TAM for ocular cancer not to mention European revenue. Delcath has the potential to increase its total addressable market if it can expand its technology into other cancers.
Risks
The company's success is dependent on FDA approval. There isn't any guarantee that the company will succeed with the pending NDA. If approval is obtained the company will need to maintain FDA approval. Delcath will have to overcome similar hurdles as it seeks to expand into other cancers. The same conditions will need to be met in each country that the company seeks to do business in.
Delcath will need to establish insurance reimbursement rates for its devices that will result in commercial viability. The company will also need to establish partnerships with a number of medical centers.
There are many companies developing products that have the potential to compete with Delcath's system.
Conclusion
Delcath is near the finish line of gaining regulatory approval for HEPZATO, which will become the first FDA-approved minimally invasive liver cancer treatment. The company is well-funded to commence commercial operations in the U.S. and to advance commercial operations in Europe. The plan to initially partner with ten medical centers is already taking shape. Management has outlined their plan to scale the company by adding more participating medical centers and by expanding into treatment for additional cancers.
Editor's Note: This article covers one or more microcap stocks. Please be aware of the risks associated with these stocks.