Refresh
Good morning from Day One of Cisco Live, coming to you from the Mandalay Bay resort in a stunningly hot Las Vegas.
This morning will see Cisco CEO Chuck Robbins take to the stage for his opening keynote, where he will be joined by Chief Strategy Officer Liz Centoni, EVP and General Manager of Cisco Networking Jonathan Davidson, and Jeetu Patel, Cisco's EVP and General Manager, Security & Collaboration – and all-round security guru.
We're expecting a host of new announcements and updates, and also a host of customers keen to talk about how Cisco is helping them grow and prosper.
We're about an hour out from the keynote, so time for some breakfast (and coffee!)
We're here in the Michelob Ultra arena – which can apparently hold 12,000 people.
There's only a few minutes until kick-off – we're seated and ready!
What on earth is happening…is that the Power Rangers?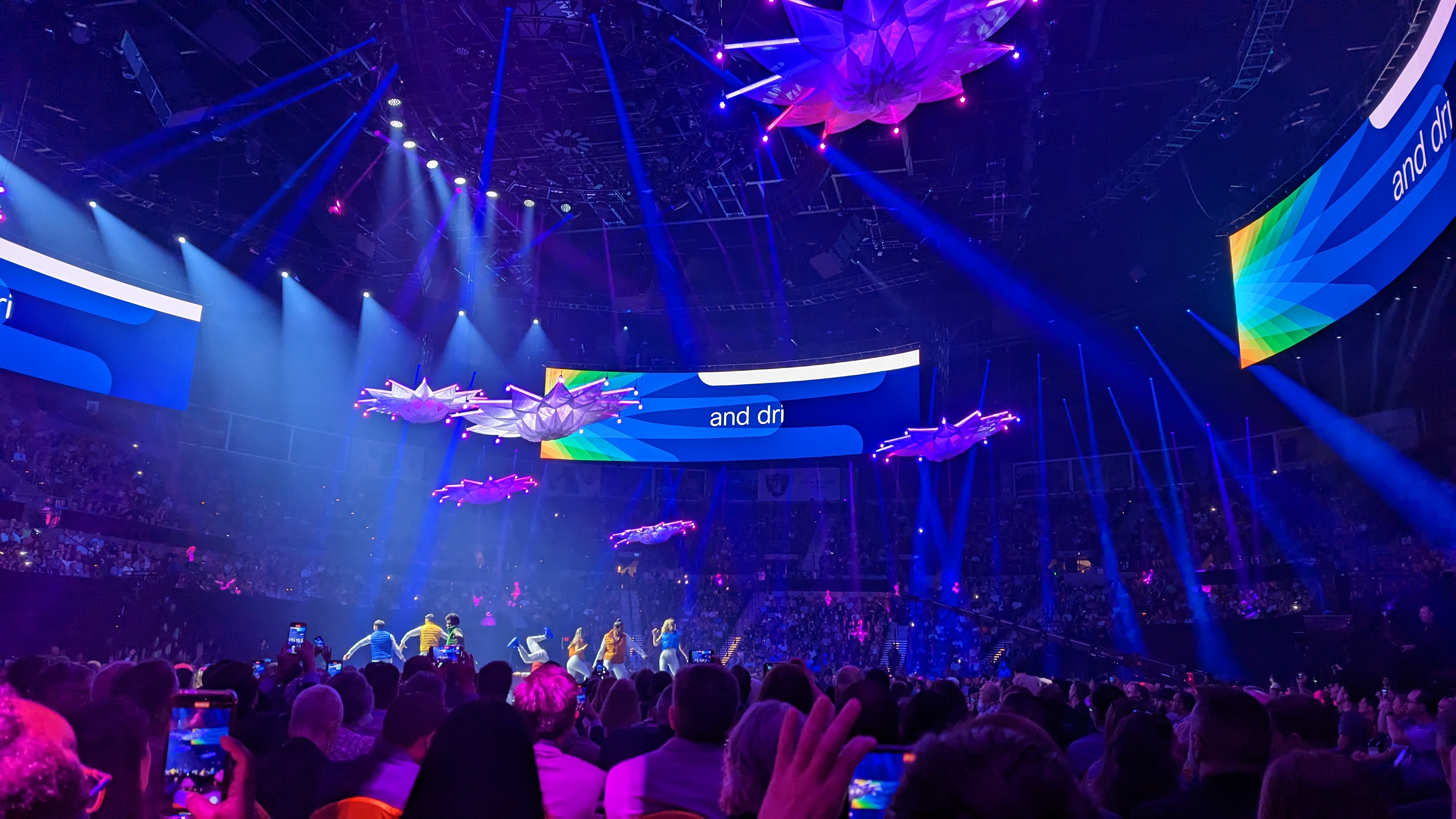 The lights go down and we're off here at Cisco Live Day One.
After a brief introduction highlighting the importance of security, AI, and sustainability, CEO Chuck Robbins takes to the stage.
"I don't think in all the years I've been coming here, that we've ever had this much innovation to announce," he says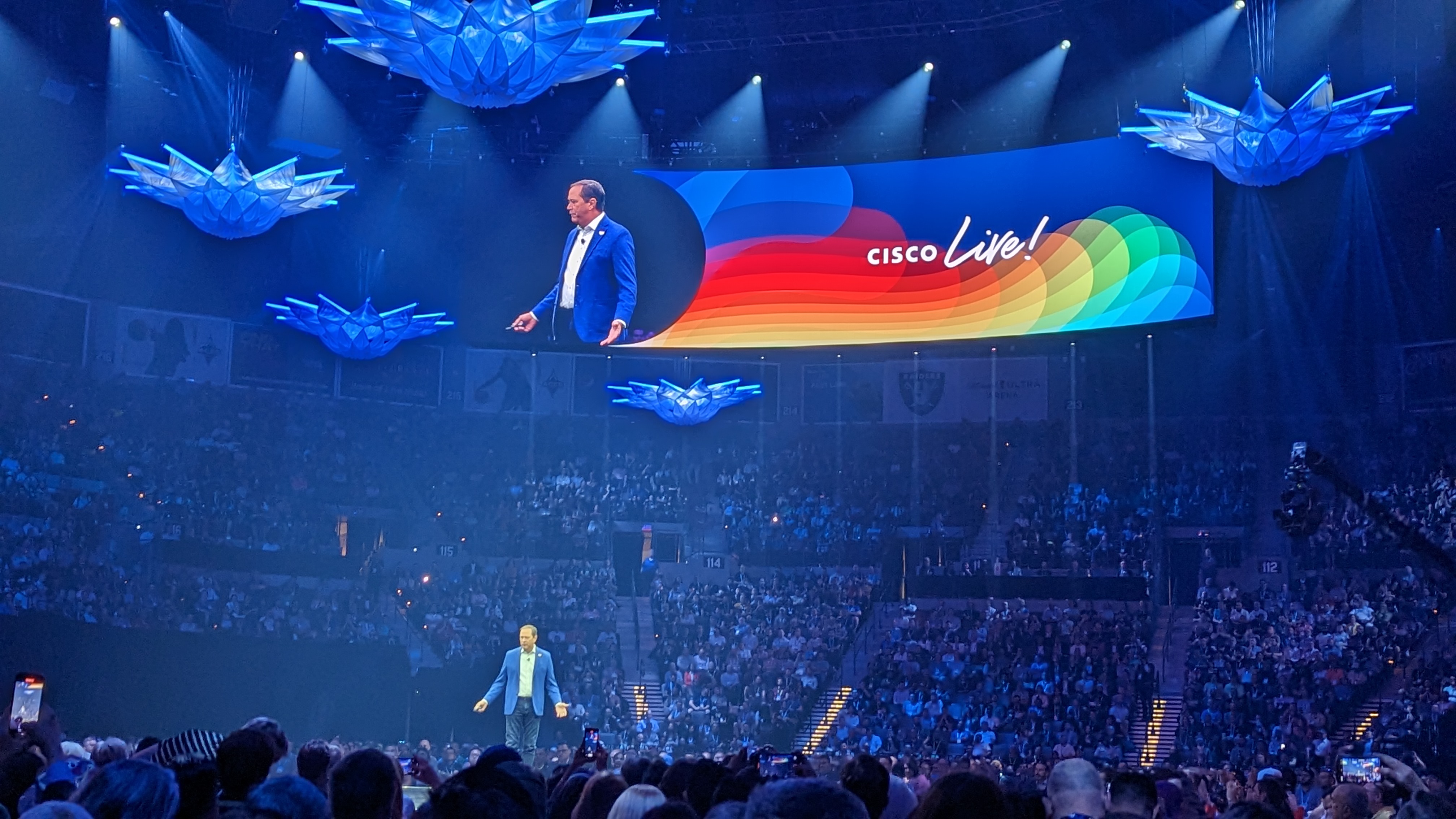 "We know how important technology is to the success of your businesses…and to humanity," he says, noting the role of technology during the pandemic.
"Technology is key to everything we're doing going forward," he adds.
But technology is increasingly complex, he says, introducing what will be a major feature of today's keynote – simplicity.
"It's a complicated world – but we have to bring this technology to bear to realize the benefit of what we can do around the world."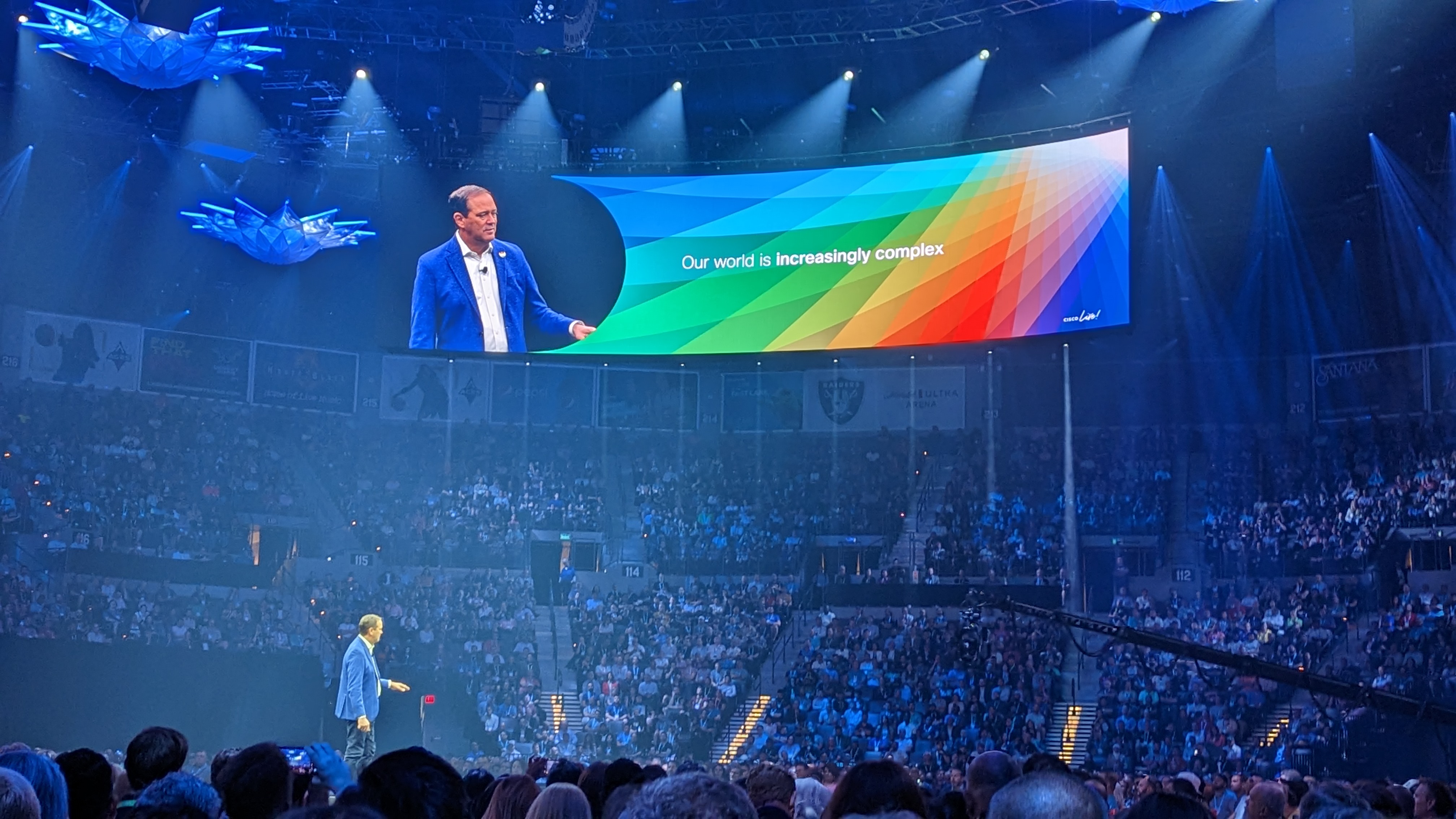 First mention of AI – take a drink, if you're playing along at home.
"We want to do great things with AI – and we want to do them responsibly," Robbins says.
We're on to the first major pillar now – Security.
It's a "number one" concern for all businesses, Robbins says – particularly as the company wants to help connect all smart products around the world.
"This is in the name of making anything possible," he adds – from letting NFL customers have a better stadium experience to multi-national telecom companies.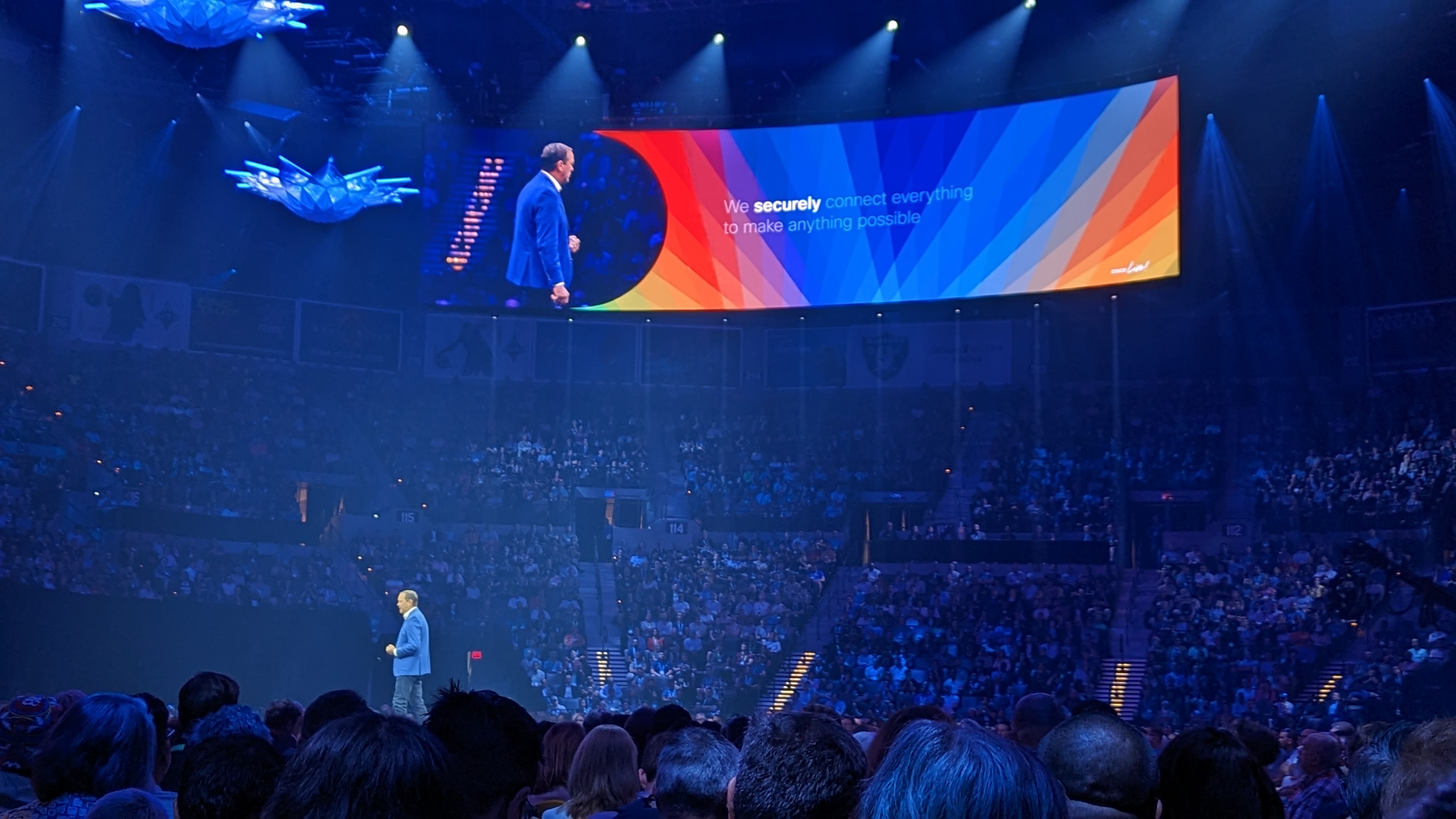 "We care deeply about your success…we are innovating at a faster pace than we have done for some time, and we want to continue to do so."
"We'll continue to earn your trust," Robbins adds, highlighting Cisco's global reach, which now covers over a million companies worldwide, and 98% of the world's largest companies.
"We can help you, wherever you are," he says.
Robbins highlights five key themes for Cisco going forward:
– Reimagine your applications
– Power your hybrid work
– Transform your infrastructure
– Secure your enterprise
– Your journey to sustainability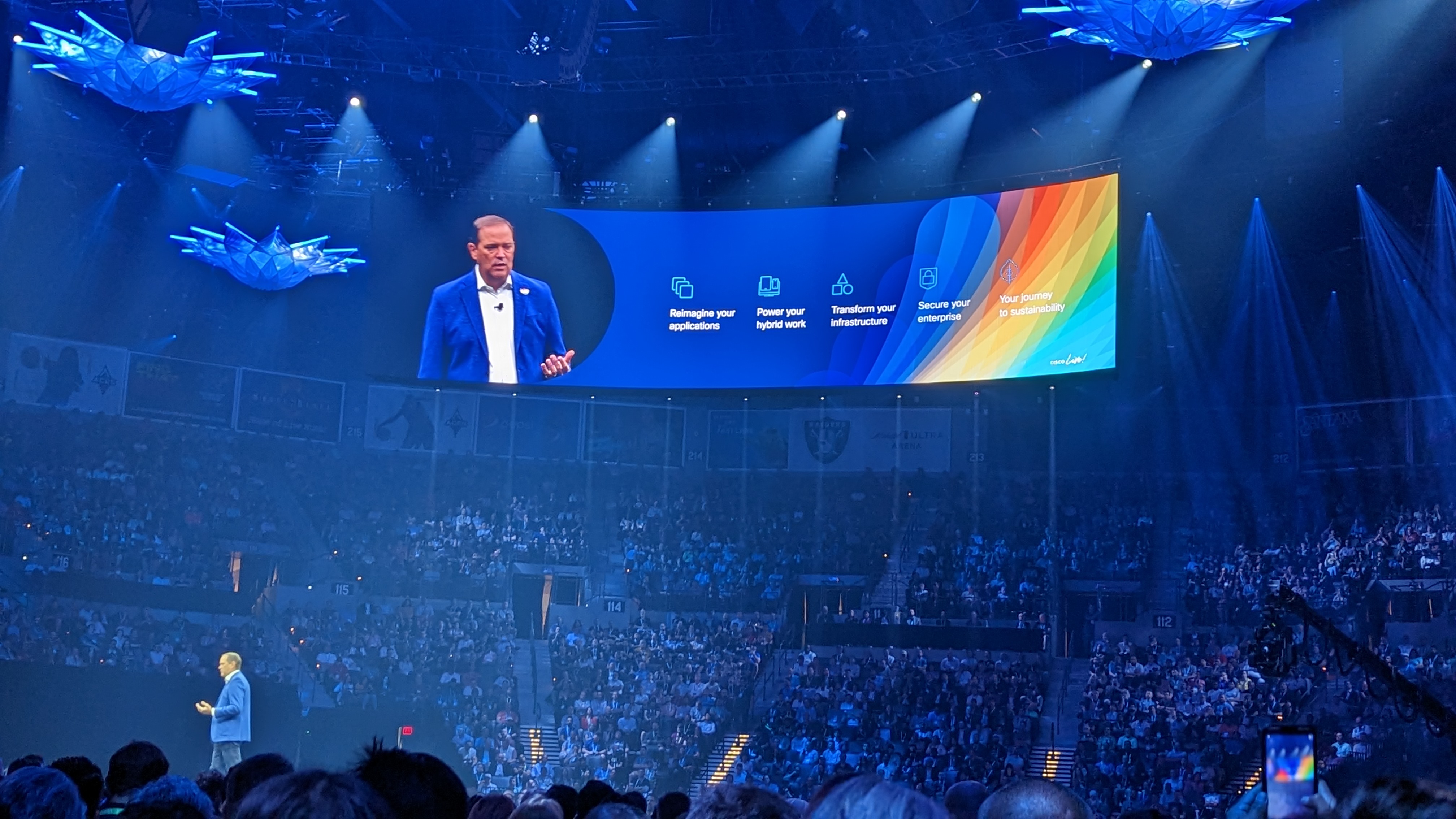 Sustainability is set to be a huge theme for Cisco this year, with the company making some major pledges and initiatives to help both itself and its customers get greener.
Robbins notes a couple of services, including tech recycling – even the carpets and signage being used at Cisco Live 2023 are going to be recycled.
With a final nod to simplifying all parts of your technology experience to help drive growth, and powering an inclusive future for all, Robbins departs.
Now it's time for Cisco Chief Strategy Officer Liz Centoni, who is here to talk about the first section of product news and upgrades.
"We truly feel our breath of technology helps shape the future for you," she notes, highlighting four key tech themes – Hyperconnected, Secure, AI and Quantum – which Cisco thinks will shape the technology field for years to come.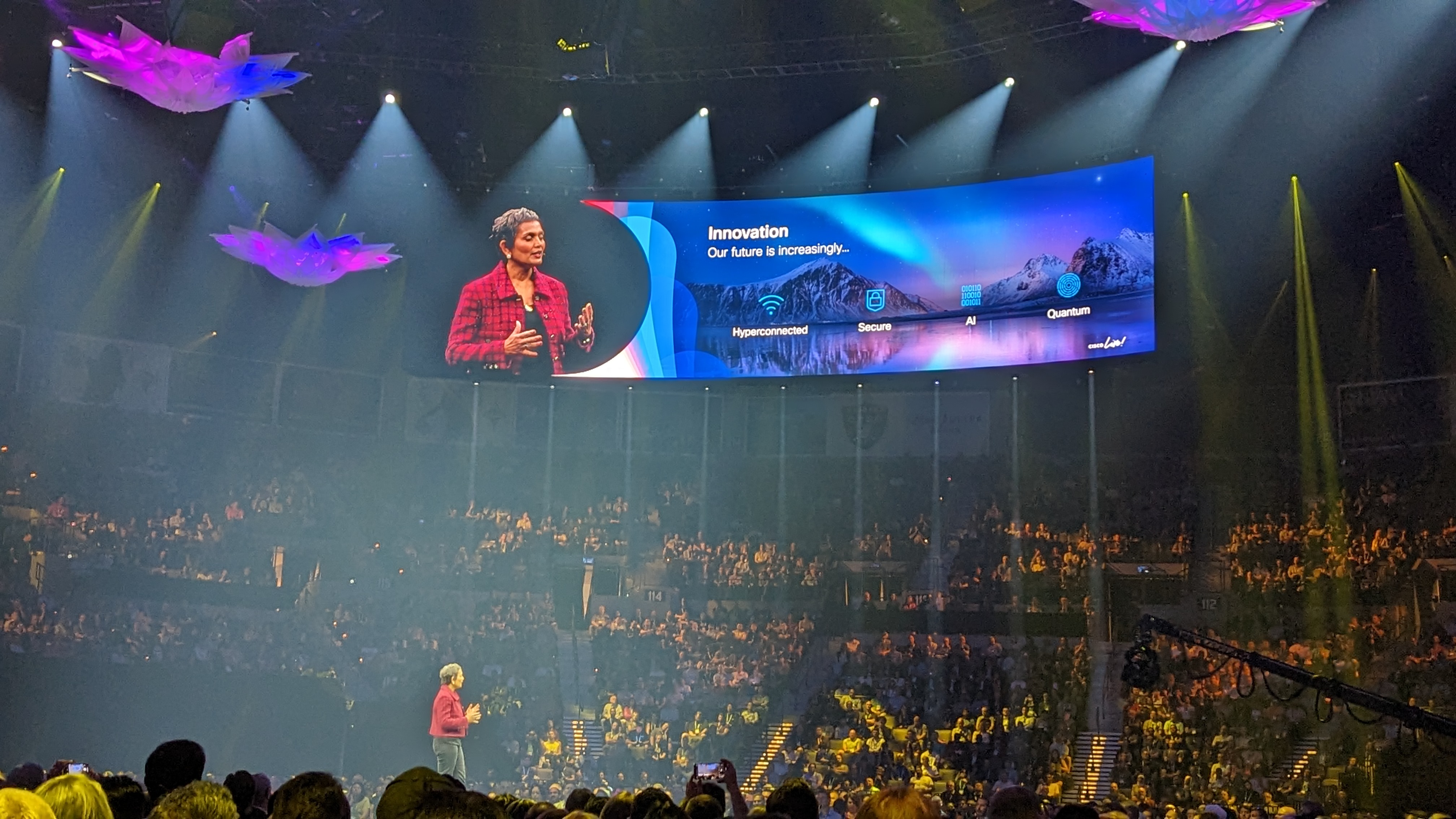 Hyperconnectivity is driving productivity and efficiency, but is also bringing a range of different other challenges, particularly around security, Centoni notes.
"We're helping you get deeper visibility and insight," she says, highlighting that Cisco delivers 630 billion observability metrics per day.
"If you take our technology and put our ecosystem along it, it can help the transition to a modern and low-carbon economy."
When it comes to security, "we want to frustrate attackers, not users", Centoni notes,  giving users safe and easy access to their apps and data.
Cisco observes over 400 billion security events every day as well, meaning it has unparalleled insight into the threats facing businesses.
This includes AI, which Centoni notes was already part of its efforts, cutting around 100 billion hours of work in threat detection and mitigation
"Our aim is to build a secure network for AI," she notes.
"Responsible AI is non-negotiable," Centoni says, adding that she hopes this drive will help inspire competitors and partners alike.
Our first announcement of the day, as Centoni unveils the general availability of the Cisco Full Stack Observability (FSO) Platform.
"Every business is a digital business," Centoni says, noting that having the right applications working efficiently is vital to success. However this can lead to an avalanche of data and insights that can be overwhelming, meaning delays in functions such as threat detection.
Observability can be the way to cut out friction and encourage better co-working, becoming a tactical and strategic function.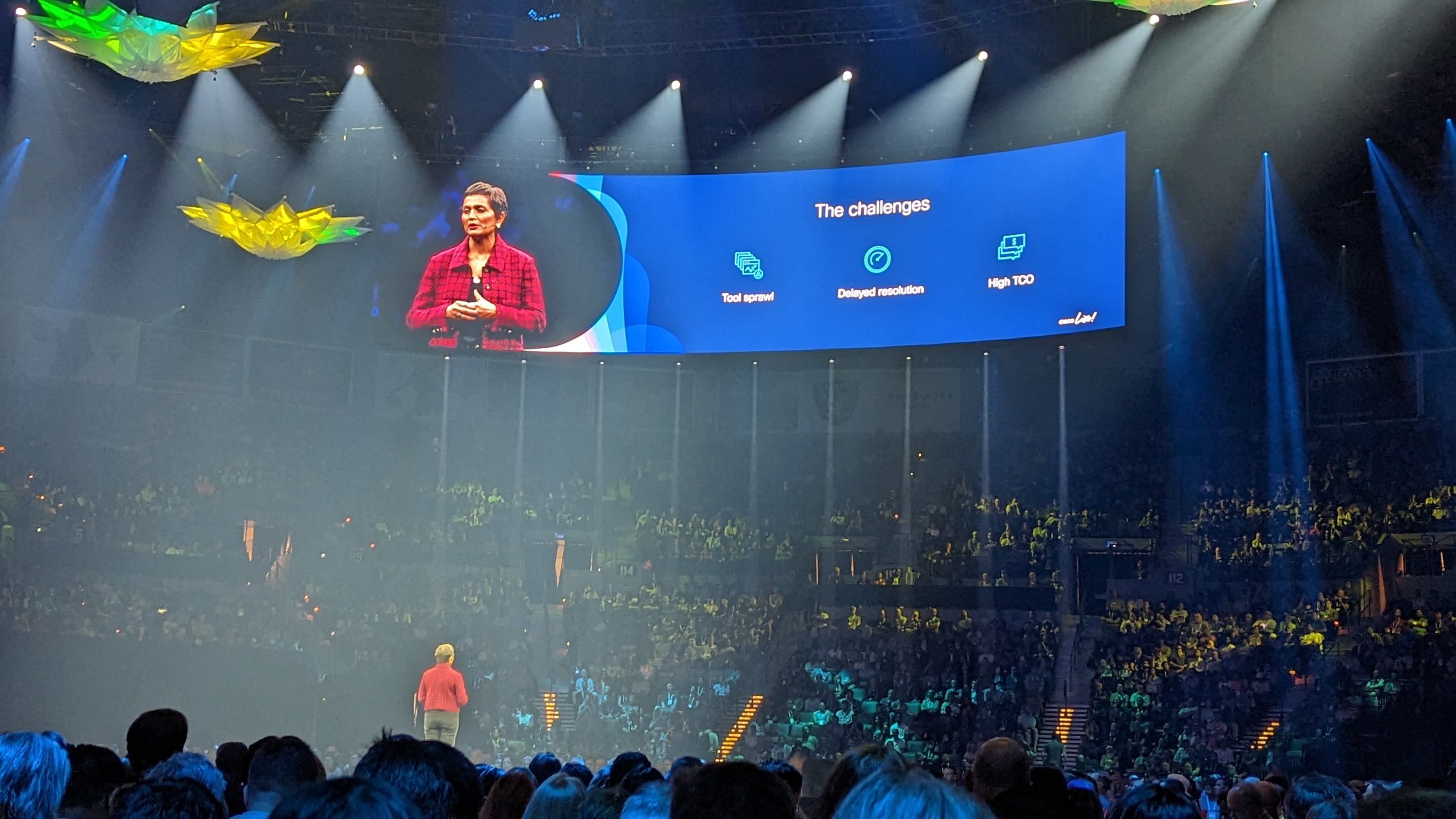 Unveiled last year, but now available to everyone, FSO lets you gain fuller access from almost any data source, Centoni notes – letting you cut down on tools, and make things simpler and more manageable.
Centoni gives us a handful of use cases to show how important FSO can be, including cost insights and customer digital experience monitoring.
Another new announcement – Cisco Cloud Application Security, aka Panoptica, is coming to FSO, to give you better insight into the threats affecting your cloud network.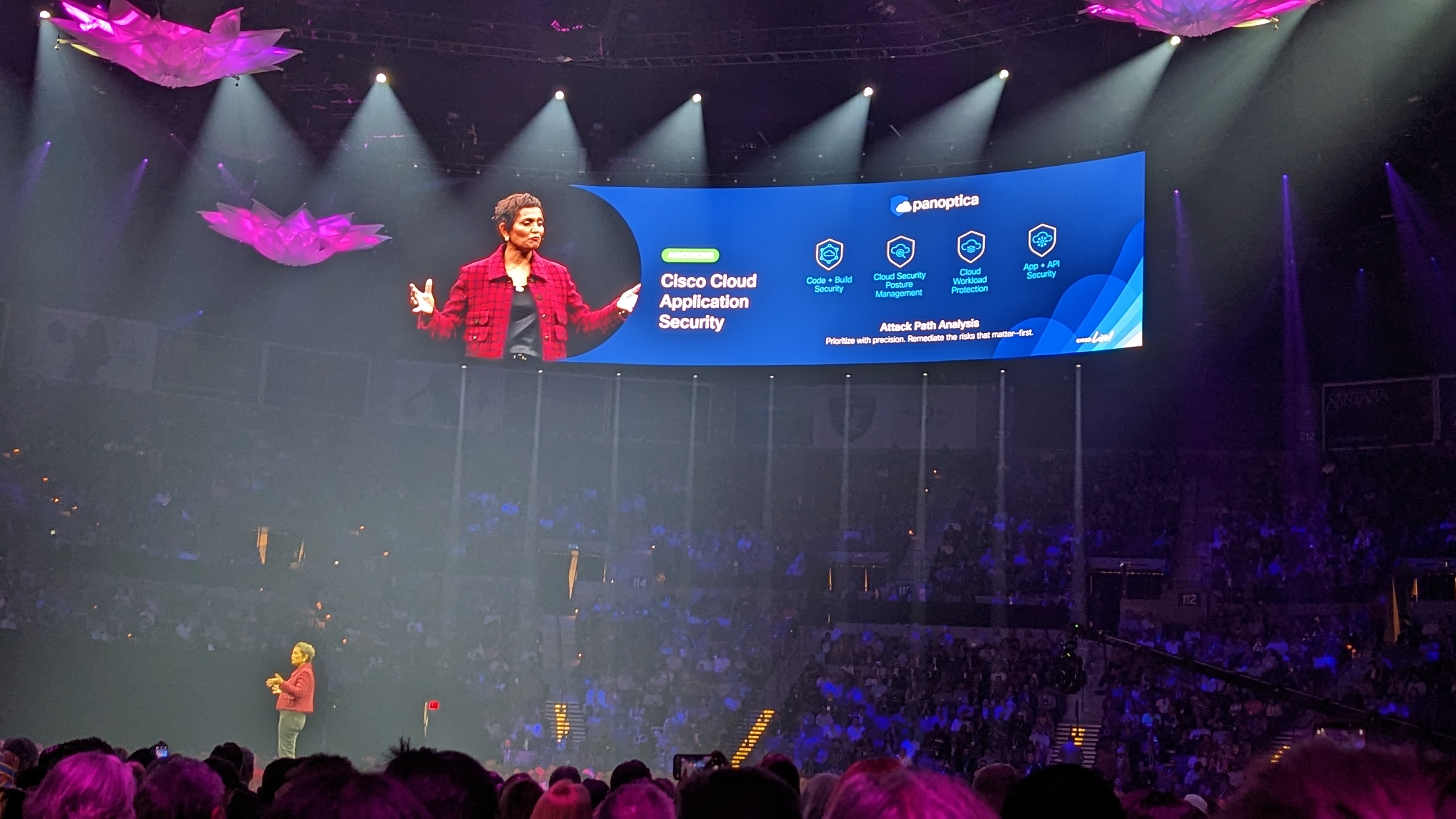 And with that, Centoni is off, replaced by Jonathan Davidson, EVP and General Manager of Cisco Networking.
Once again, simplicity is the key message here – this time it's around cloud networks.
"Cisco believes we have the opportunity to simplify your job," he says, via unified experiences covering technologies, applications and networks.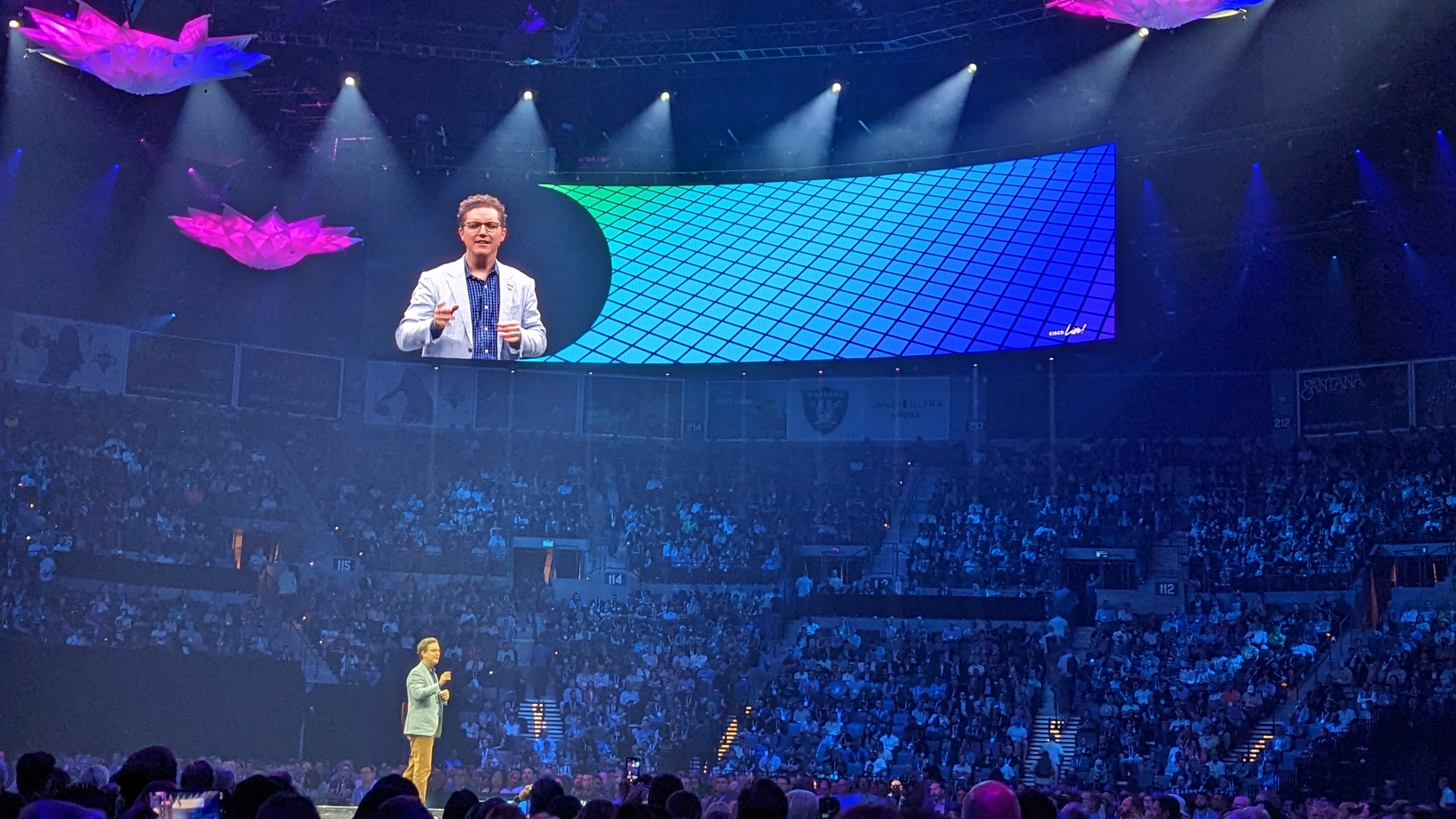 Such unified experiences are being inhibitied by operational complexity, Davidson notes – but Cisco is leading the fightback with what he calls, "radical simplification".
"We are on a journey towards platform consolidation – don't be afraid," he says, "until now – there has never been a consistent way to analyse your network connections."
Time for Cisco Networking Cloud – a simplified, single cloud network management platform that looks to make things easier to use.
"If it's connected – it's now protected," Davidson notes. "We believe many of you could benefit from a cloud-first management platform."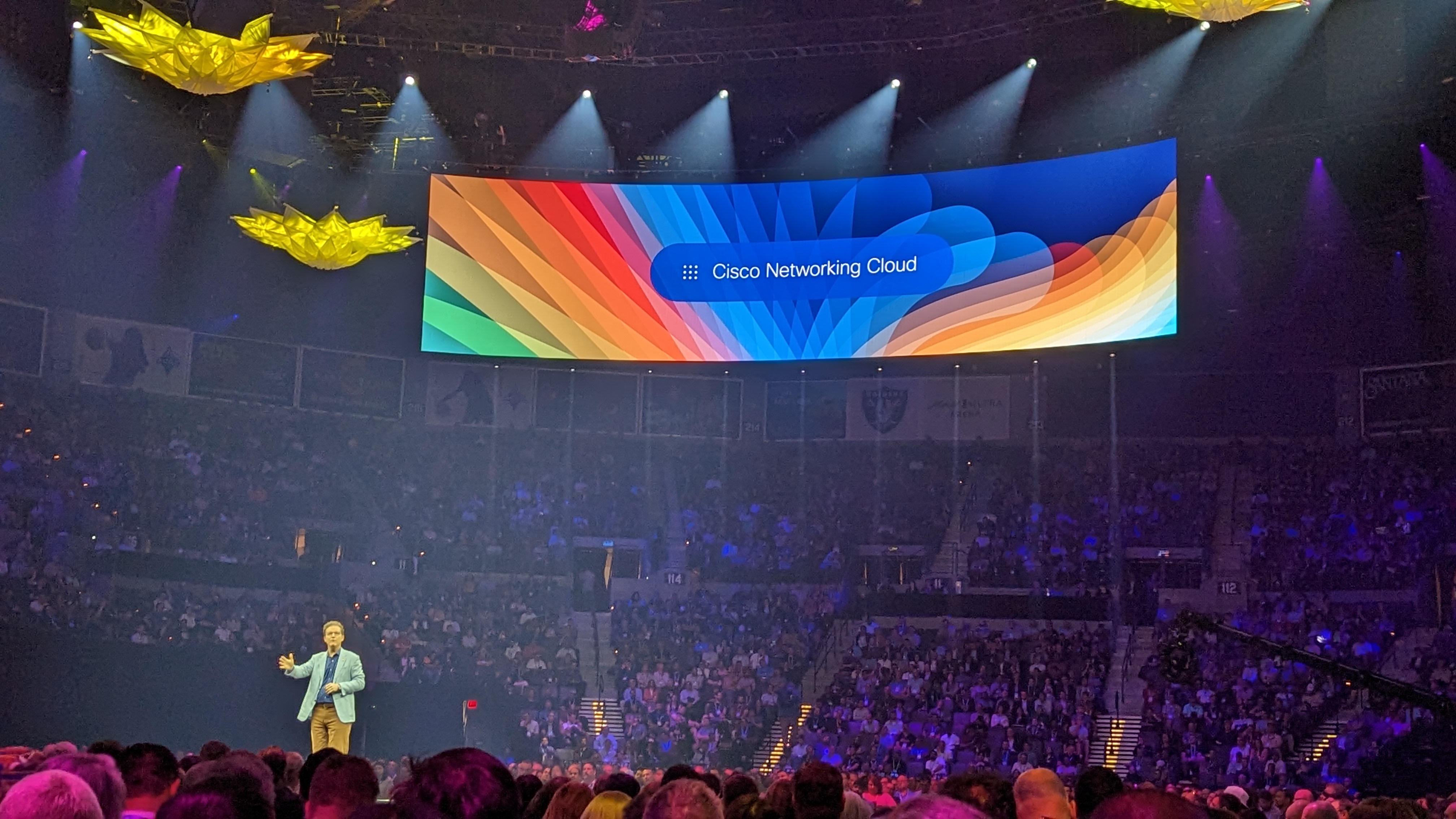 A simpler design experience is one obvious, but much-needed step, Davidson notes, with all platforms now looking the same.
Now it's time for a deeper dive into security, as Jeetu Patel, Cisco's EVP and General Manager, Security & Collaboration, comes to the stage.
Security is a top priority for all Cisco customers, he says.
He likens security services to the various parts of an orchestra – which may sound great individually, but can clash without proper control or management.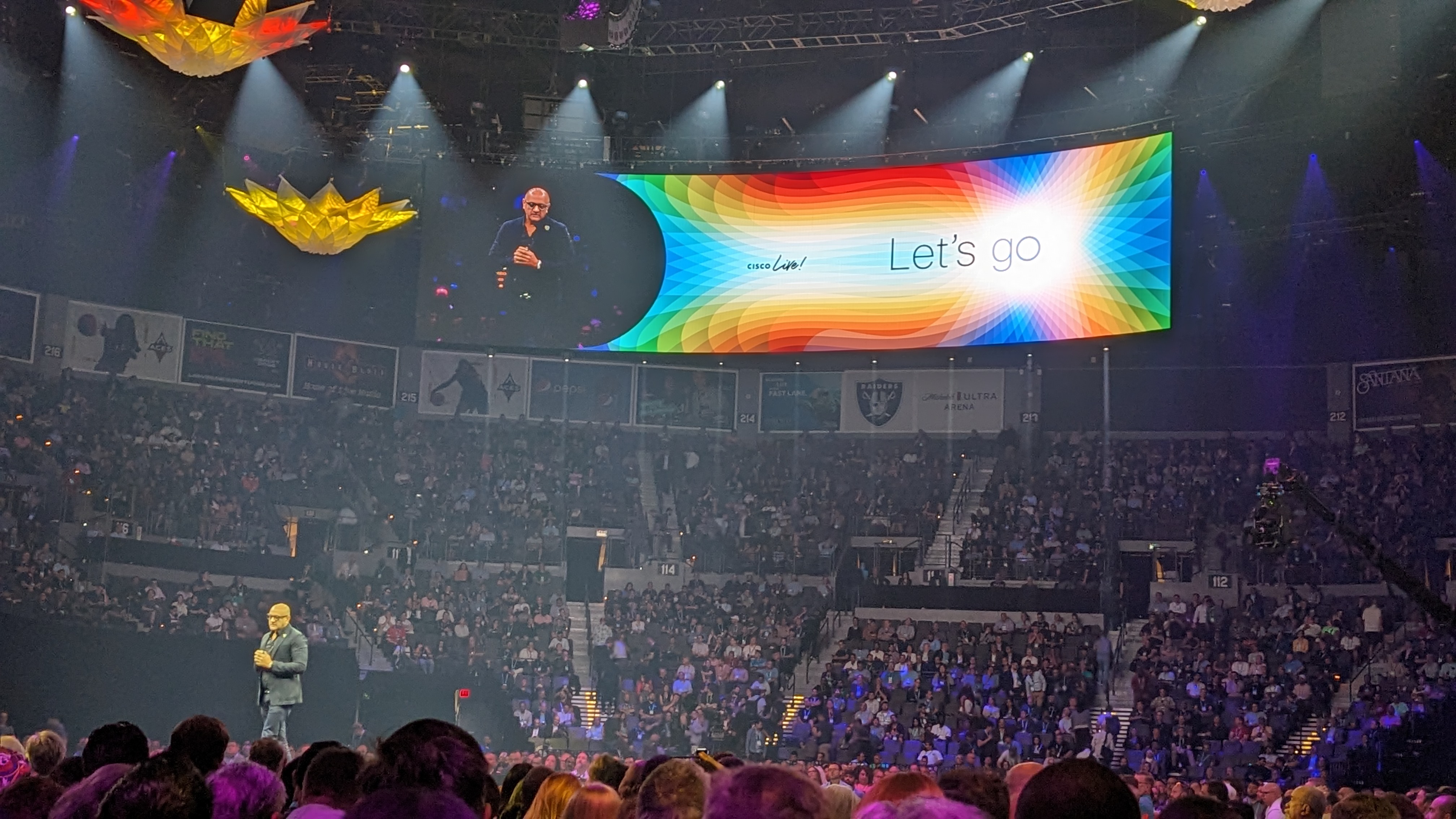 "The security industry grew up as one that was in patchwork," Patel notes, saying that as new threats arise, new vendors pop up to combat a specific threat.
"The world needs secuirty defenses that are completely synchronized," he says, "this is what we set out to do – provide a platform for security."
It's been a year since Cisco Security Cloud was announced, and Patel notes it's been a huge year of innovation – flavored, of course, by AI.
It's not just about zero trust – but also zero friction, Patel notes.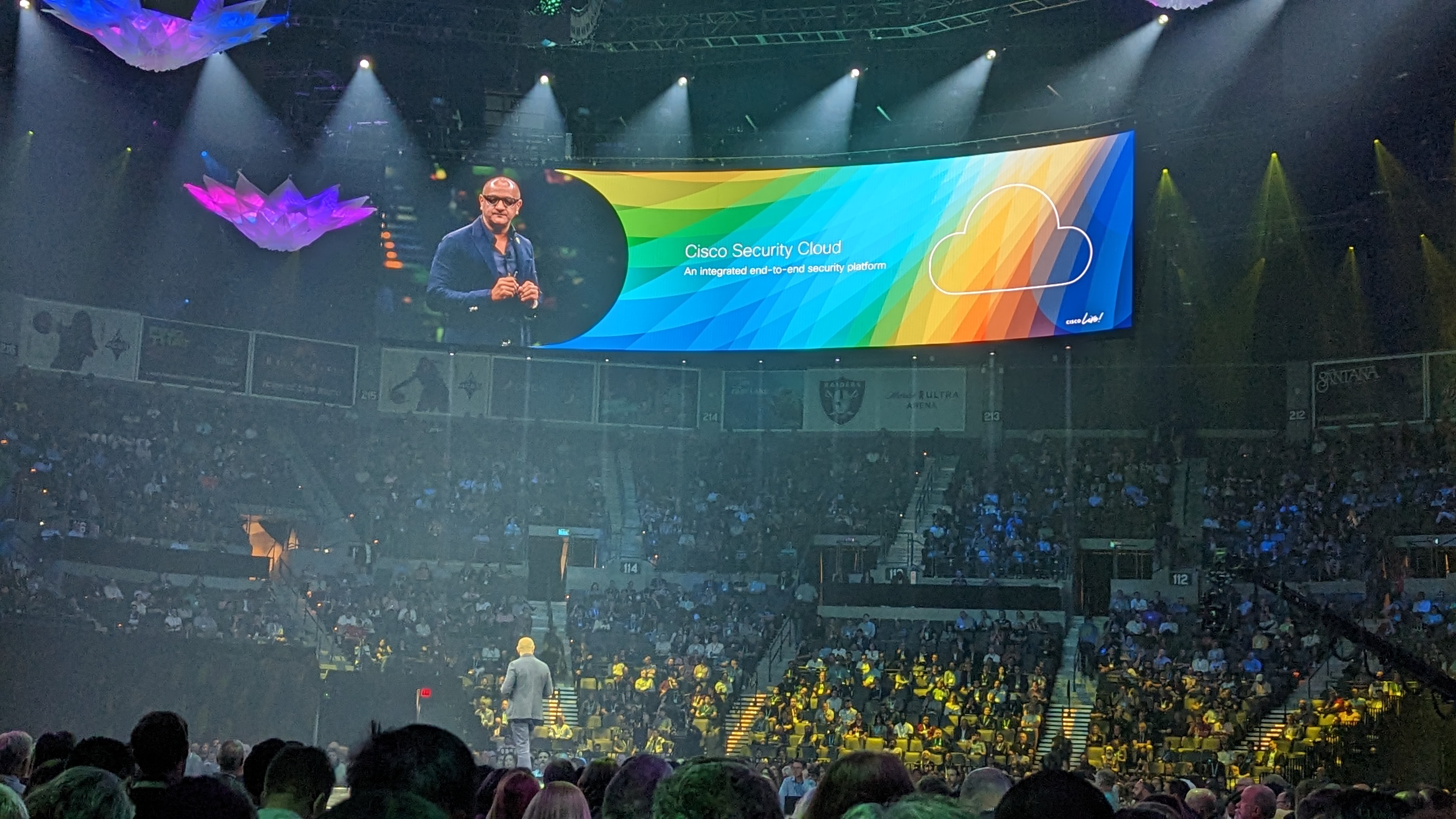 Much like pouring a glass of water without picking a specific pipe, Patel says Cisco wants to remove the choice of customers picking a specific way to connect to whatever service they want.
"They should think – I'm going to connect, and get to work."
Cisco Secure Access is the new launch to help simplify this, offering a single sign-on offering that lets users connect to any application, from any device, or any network – but still as one frictionless experience.
Ease of connectivity is key, Patel says, announcing that Apple iCloud Private Relay is signed up, without the need to download anything extra.
"It just works – it's magic," he says.
Also simplifying access is Cisco Secure Access and Thousand Eyes integration, again giving users a combined, easy to manage offering. 
Moving on to the challenge of securing Private and Public clouds – Patel says we need a "translation layer" to allow for seamless communication.
Namely, Cisco Multicloud Defense, available now, which helps the two sides communicate, no matter what firewall is being used, unifying security controls across clouds and applications.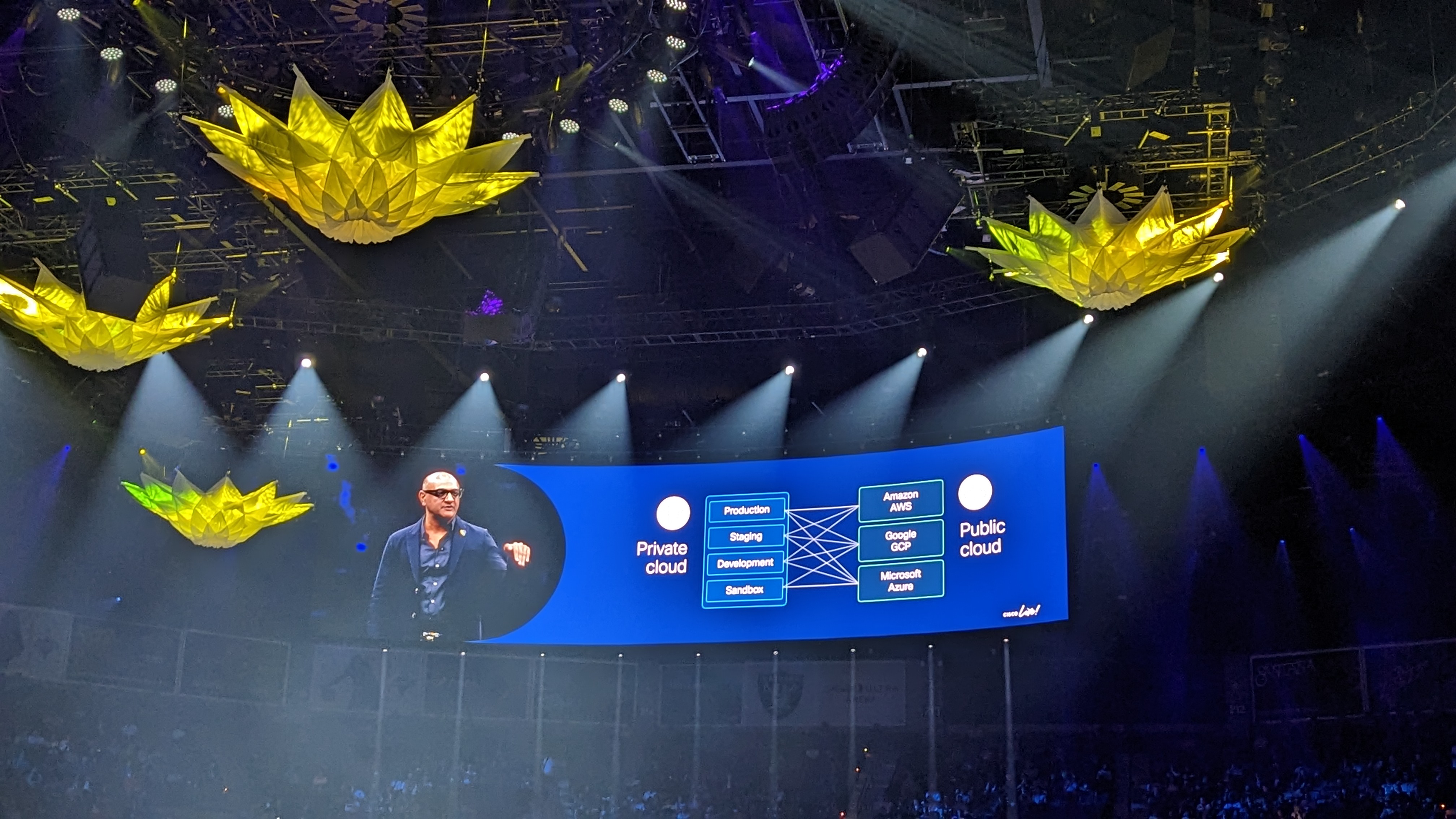 Speaking of firewalls, Patel also announces the all-new Cisco Secure Firewall 4200, a faster offering that improves redundancy, built alongside the new multicloud platform.
Another mention for AI (drink) as Patel outlines how natural language interfaces are set to play a much bigger role in the future.
AI is going to power another new announcement – an SOC Assistant, to help you spot and manage security incidents, including optimized remediation tactics.
Patel says it'll be the most powerful AI-driven launch from Cisco when it launches in mid-2024.
And with that, Patel departs, and it's time to wrap up our day one keynote.
Its a bit of an abrupt end, but it's now time to digest what was announced, and hit the show floor to find out some more on the new releases.
We're also off to an executive Q&A to hear from all our today's speakers, so stay tuned for any key insights from that.
If not, we'll be back tomorrow morning at 8.30am PST/4.30pm BST for the day two keynote, which promises more news and announcements.
Good morning from Day Two of Cisco Live 2023!
After yesterday's packed opening keynote, we're all ready for some more action today.
On stage this morning are Jeetu Patel, EVP and General Manager, Security & Collaboration, Jonathan Davidson, EVP and General Manager, Cisco Networking, Alistair Wildman, SVP, Global Customer Experience, and Jeff Sharritts, EVP and Chief Customer and Partner Officer. 
Also coming on will be Cathy Lanier, Chief Security Officer of the National Football League (NFL) and US comedian/writer/performing all-star Jim Gaffigan.
We're in and seated for today's keynote – unsurprisingly, its time for The Killers on the soundsystem. Well, we are in Las Vegas, after all.
After a rather *different* beatboxing/tap dancing musical intro, we're off with the day two keynote here – Jeff Sharritts, EVP and Chief Customer and Partner Officer takes to the stage.
After a brief intro, it's time to welcome back Jeetu Patel, EVP and General Manager, Security & Collaboration.
Here's here to talk about all things hybrid work, and how it can benefit your business.
"Hybrid work is really one of the ways you can level the playing field."
People work everywhere now, he says, and Cisco wants to allow users to optimize their working wherever they are.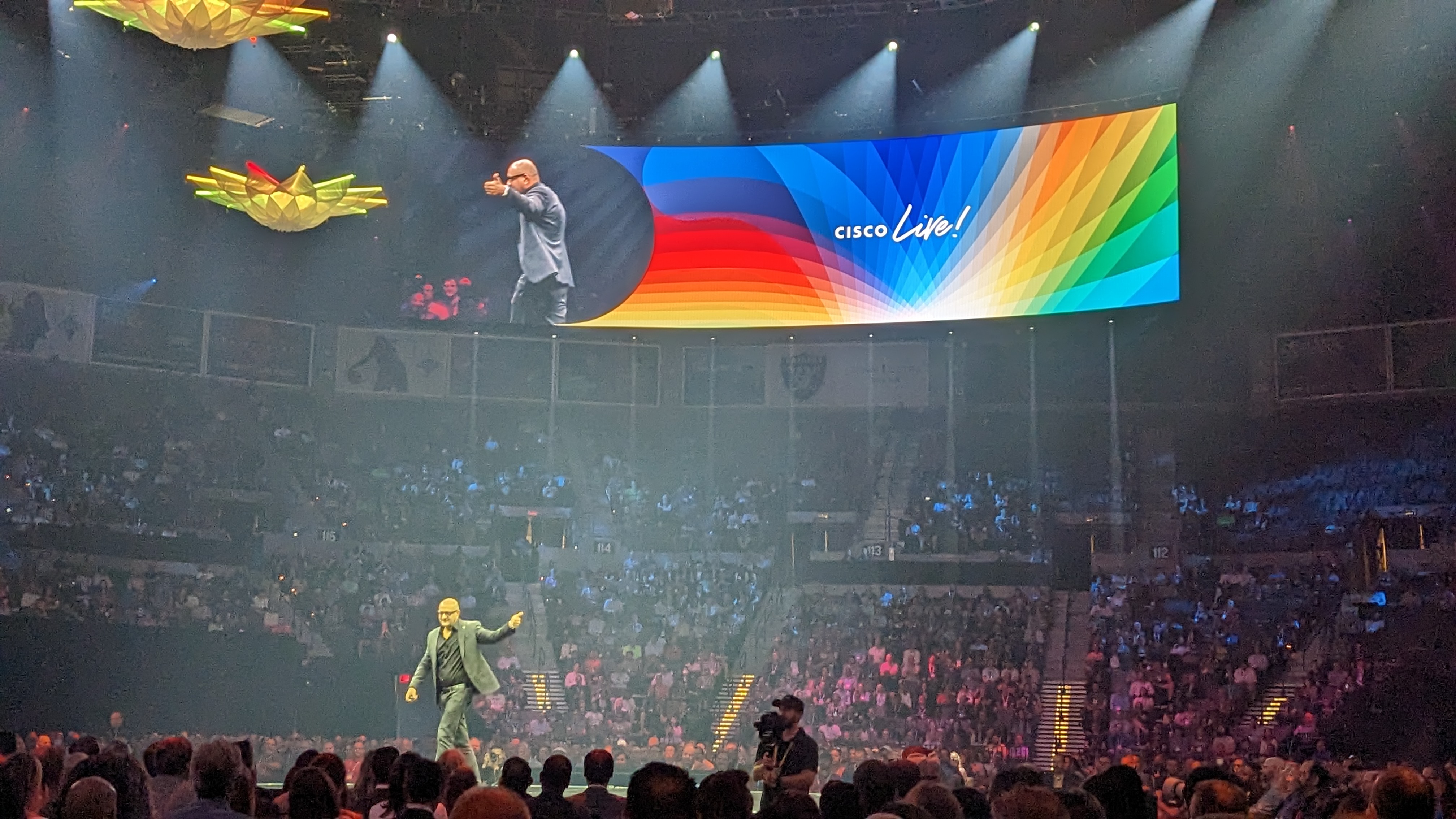 Cisco has developed and launched specialized hardware for different-sized spaces, Patel notes – all boosted with AI power and Nvidia chips.
This can be in audio intelligence, video intelligence, natural language understanding, and analytics.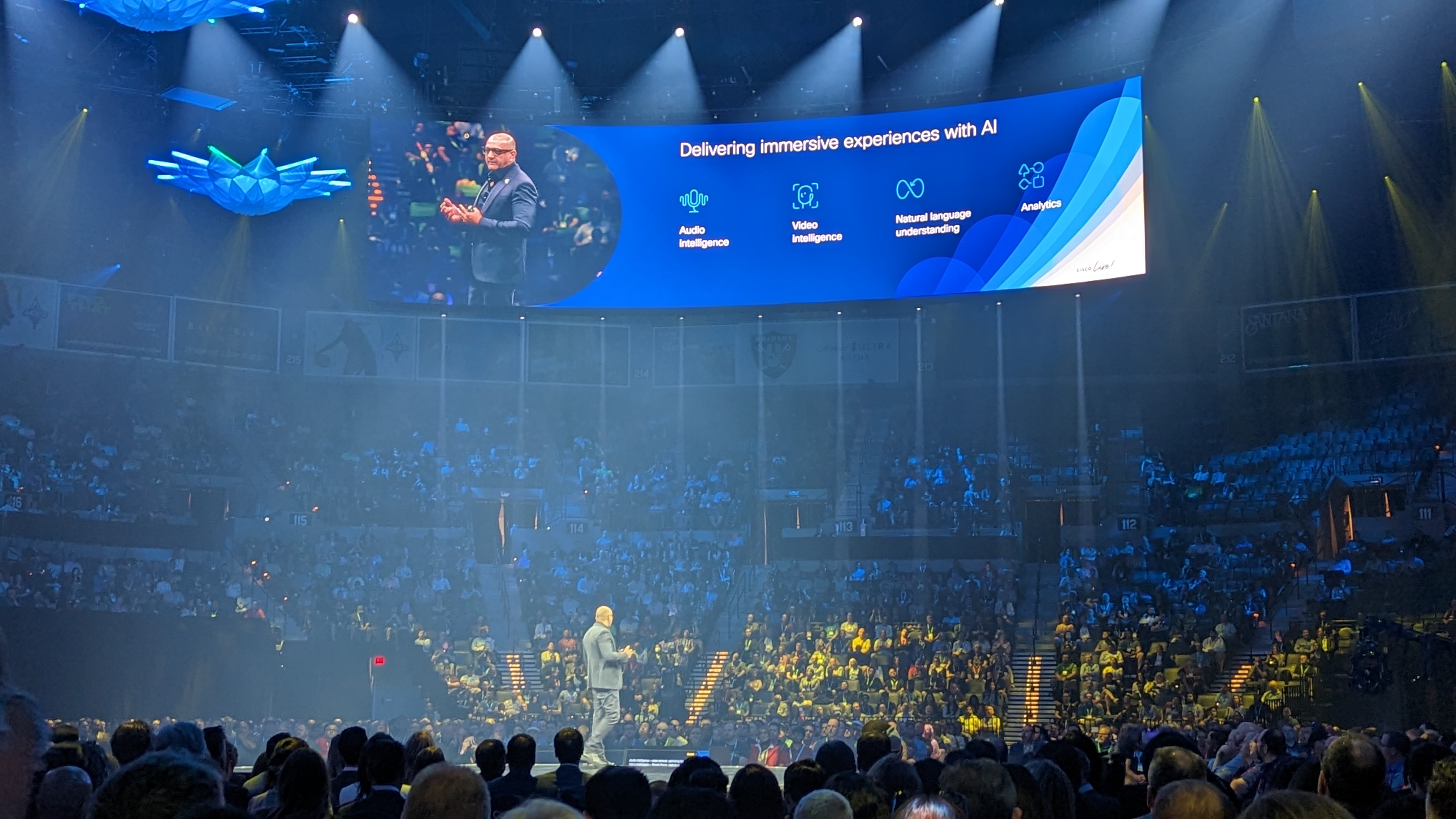 Generative AI is the next generation, Patel says, and the company is ready to do more.
Cisco wants to open Webex up to the wider ecosystem, whether that's Google, Microsoft, Zoom or others – but all powered by Cisco RoomOS.
Microsoft Teams is now natively running within Webex Meetings and Events, bringing the two platforms closer together.
"There's no rational reason for any company to buy any other hardware apart from Cisco," he jokes.
Patel reveals Cinematic Meetings for Webex – a new way of presenting meetings.
He notes that when you're watching a two-hour movie, you are kept alert due to frequent camera angle changes – but this doesn't happen on a conference call.
This should make everyone in the room feel like they're really in the meeting, keeping everyone focused and engaged with smarter camera and audio functions.
Also announced is Meeting Zones, allowing users to define the "perimeter" of a call, taking away everyone else to just focus on the participants. 
Patel also notes that Webex is coming to Apple's Vision Pro, should you want to spend $3,499 on a headset for video conferencing…
No one in the market has a broader portfolio than Cisco when it comes to hybrid working, Patel says – everything from furniture to lighting and acoustics.
He reveals Cisco Spaces is now integrated with Webex, letting employees spot exactly which meeting rooms are available right now. But it will also allow bosses and facilities managers to see if all their rooms are being used, possibly even saving money on energy bills.
A new expansion to Control Hub will also let you manage both Cisco and third-party devices, letting you spot any issues before they cause too much damage.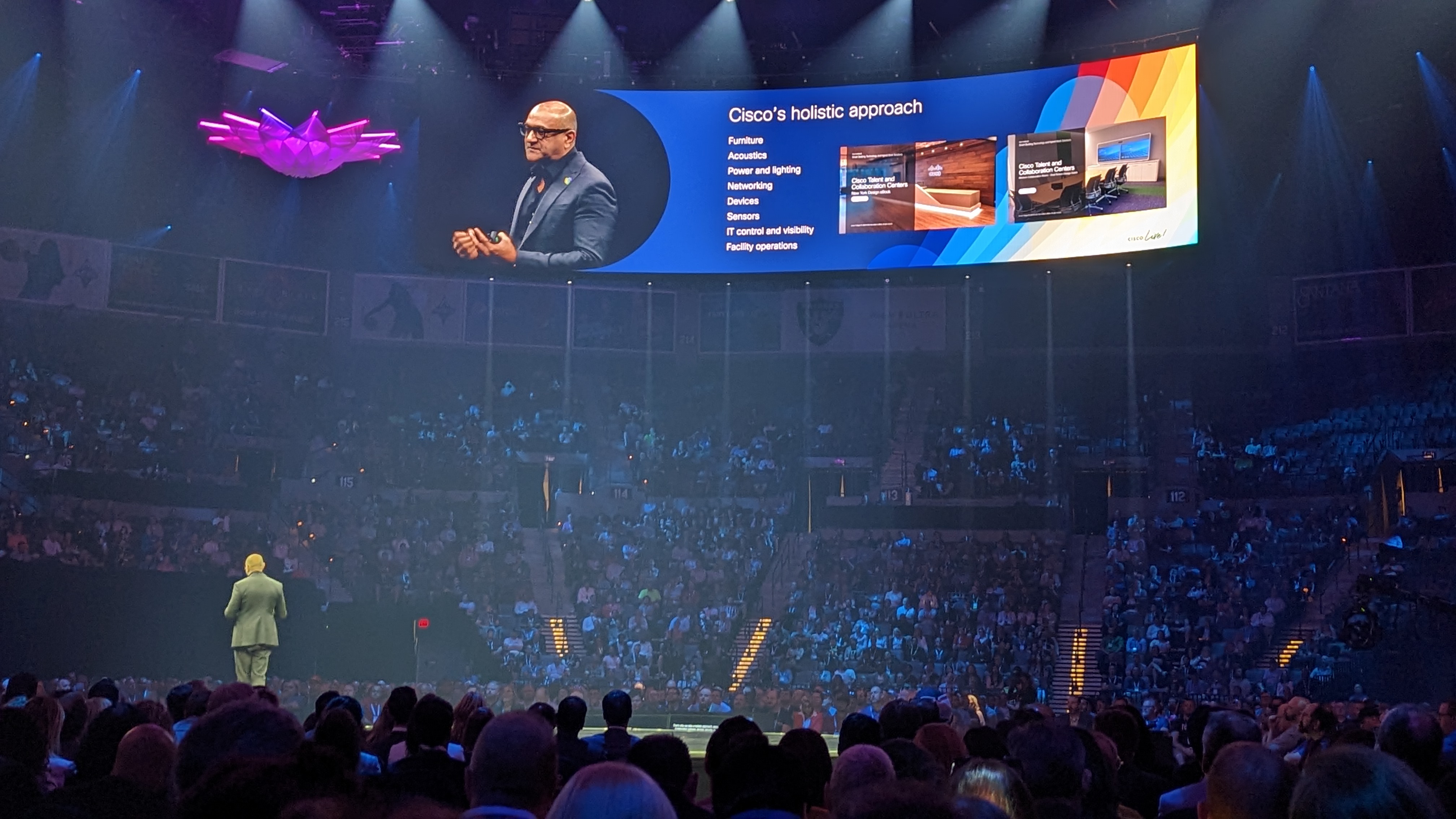 Next, Patel wants to talk about enhancing workspaces as a whole.
Whether in an office, at home or in a contact center, Cisco Webex is able to deliver a smarter, AI-driven experience, he says.
It's generative AI time…
Experiences are set to get a lot more natural, Patel says, as AI allows machines to understand natural languages better.
This includes meeting summaries, smart assistants and even voice calls summaries with Webex AI.
"Catch Me Up" and Conversation Summaries are coming December 2023, and Agent Answers for contact center interactions is "coming soon."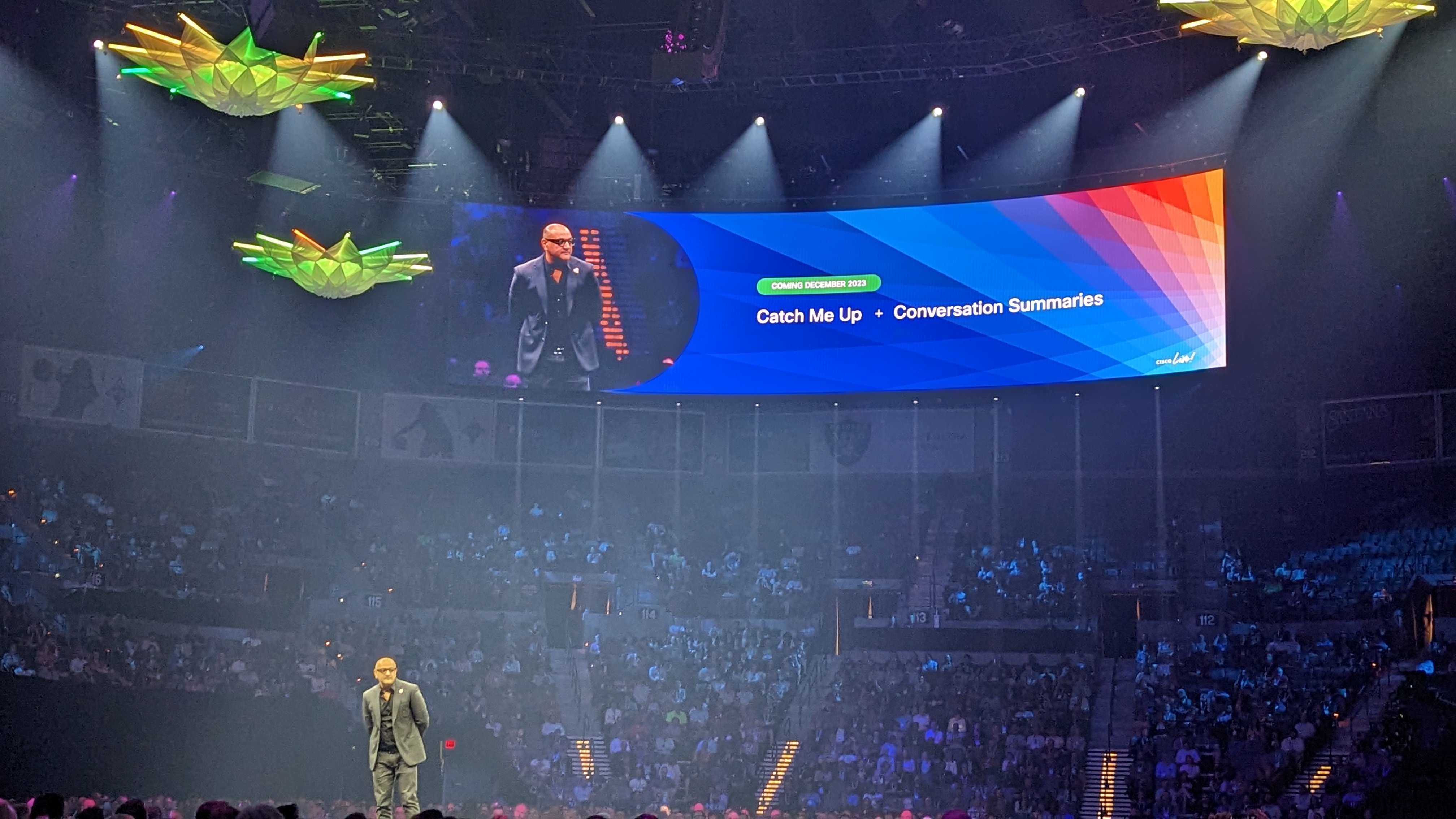 Cisco knows that spending on software licenses is a growing issue, driving up the true cost of hybrid work.
"Hybrid work is one of the most significant shifts we've seen," says Patel, "it would be a real shame if we shifted back to how things were."
To simplify that, Cisco is letting users buy a single Webex license that covers all your video and audio calling needs.
With that motivational note, Patel departs, and Jonathan Davidson, EVP and General Manager, Cisco Networking, takes to the stage.
He's here to talk about unified experiences for businesses everywhere, whether that's between companies, workers, or just things.
Simplification is the key again – Cisco wants to make things easier for your business.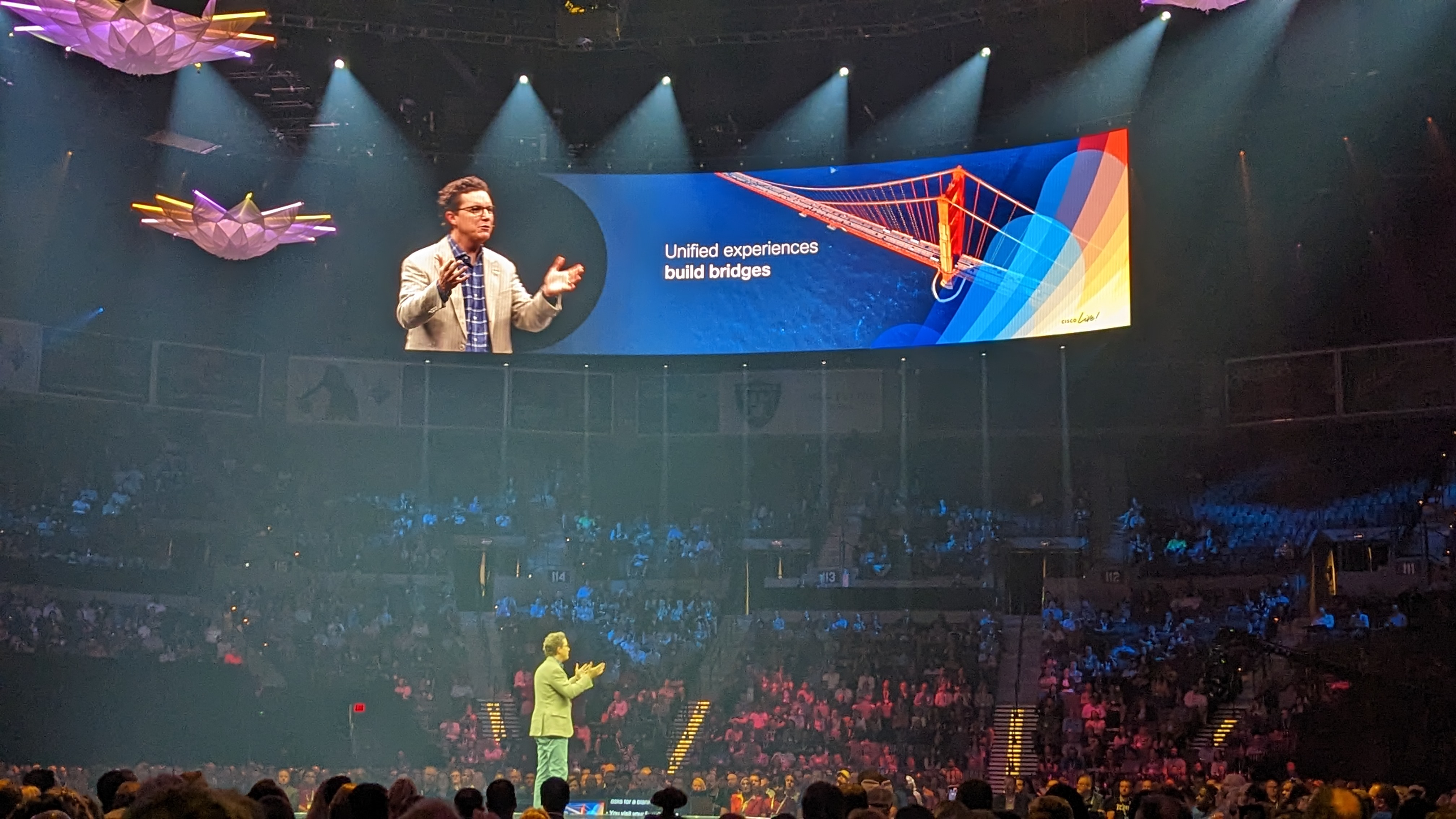 It's time to hear from some customers, and how they're enjoying this new, simpler and more straightforward approach to improve the user experience.
Whether that's Meraki, SD-Wan or security processes, Cisco customers are being given a wide range of services to get their business done.
Mohit Lad, CEO of ThousandEyes, makes a brief experience for the latter talk – we'll hear more from him later…
"Hybrid work really is the ultimate unified experience," Davidson declares.
Now it's time to talk cloud management – and a pretty big-time customer, the National Football League, or NFL.
Jeetu Patel comes back on stage, and is joined by NFL chief security officer Cathy Lanier.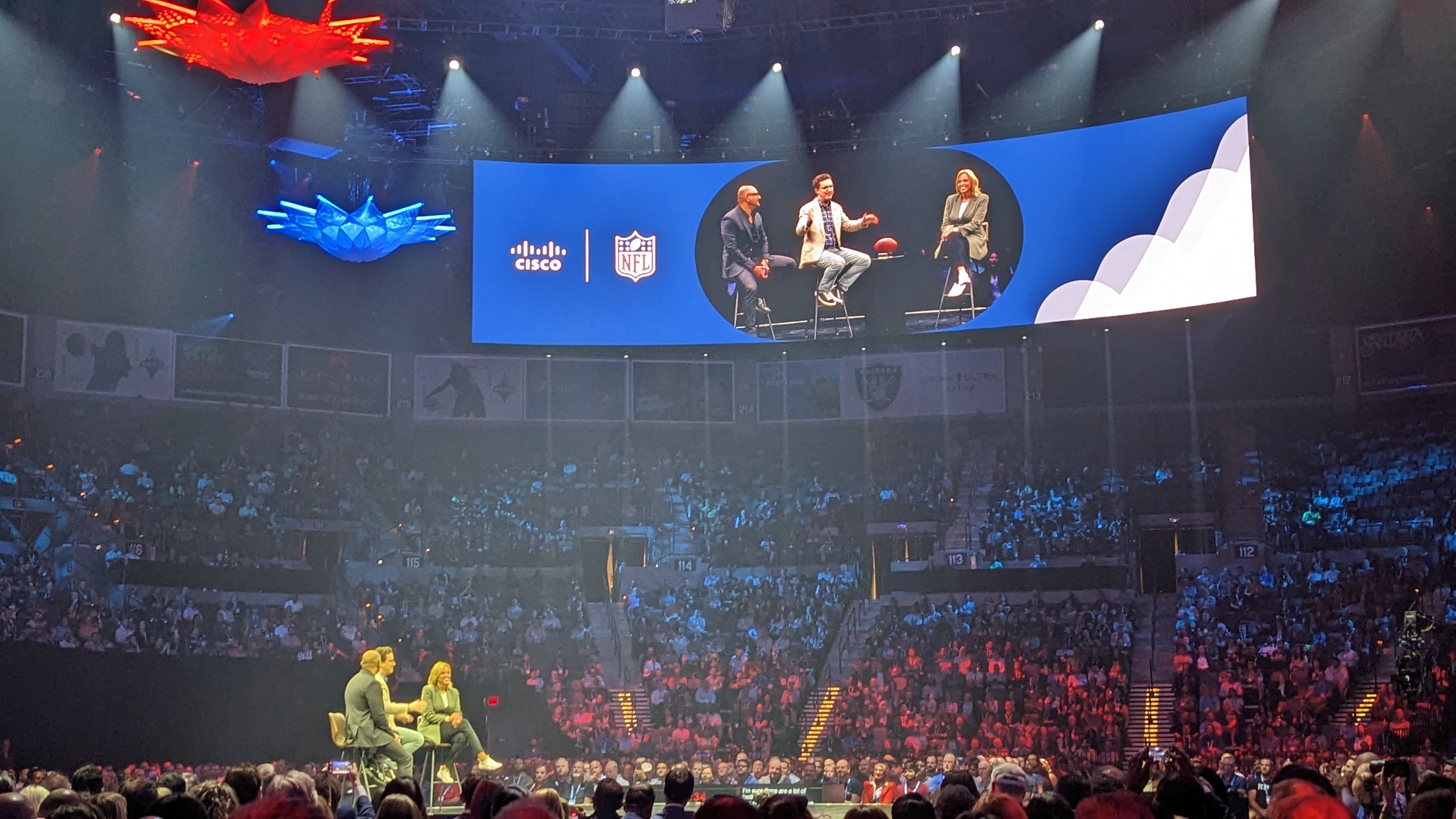 Cisco and the NFL are working together in a number of ways, as the fan experience has transformed in recent years by customers bringing multiple devices to games across the US.
Lanier notes that as more technology is being brought in, you also widen your threat attack landscape – and Cisco is helping out. The NFL combined its physical and information security bodies, as Lanier notes, "security is security".
Technology is now making the NFL an all-year sport, as Lanier notes, "it's not just people sitting in a seat any more…it's 365 days a year now."
With fans creating content and looking for a better stadium experience, there's also a need for a stronger, more resilient network, she adds, so it's critical that they have the tools necessary to do this.
A normal stadium generates around 6.8 terabytes of data per game, she notes – and this rises hugely for the like of the Superbowl.
After that sporting interlude, Alistair Wildman, SVP, Global Customer Experience takes to the stage.
He says that customers worry about complexity, ease of use, and suitability and the amount of training needed.
But don't worry, he says – "we've got your back".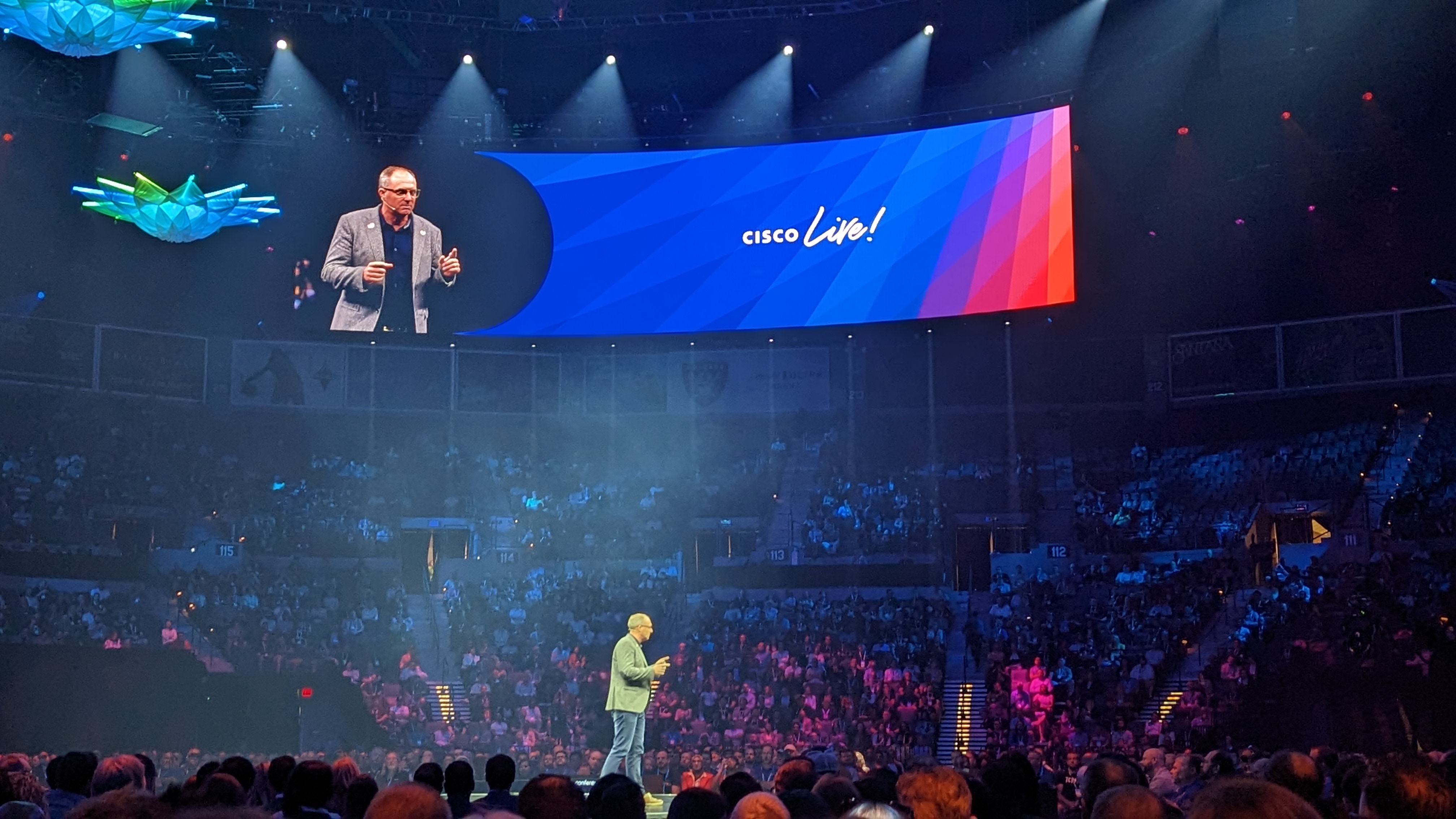 Lots more customer success stories are given a shout-out, as Cisco looks to show it really does have its customer's backs…
Now to wrap things up – a set from comedian Jim Gaffigan.
We've been told we're not allowed to take any photos for this segment, tough – so you'll just have to take our word for it. We assume he probably won't be talking much about unified experiences anyways though.
To finish up, Gaffigan calls Cisco CEO Chuck Robbins back up on stage for some closing comments (although most are about golf and parenting).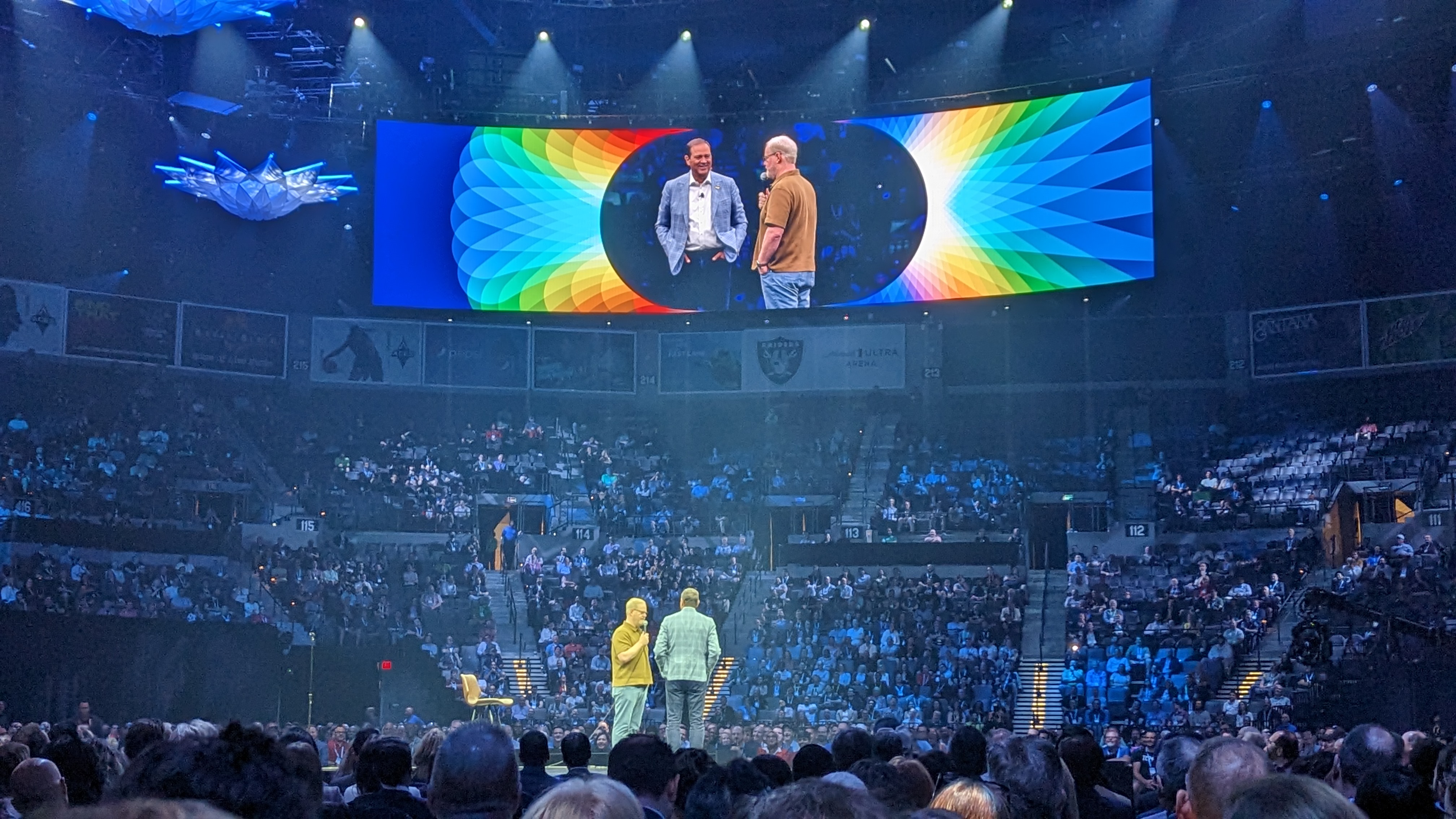 And that's a wrap! Another news-packed keynote (and some laughs), and we'll be delving more into some of the announcements later today, so stay tuned to TechRadar Pro for all the latest updates.