Join Our Telegram channel to stay up to date on breaking news coverage
The popular meme coin, Shiba Inu has witnessed a steady decline of 28% after Vitalik Buterin donated 50 trillion ($1 Billion) of it, which is roughly 5% of the whole asset flow, along with 500 ETH to an India-based Covid-19 relief fund which has been set up by the Indian entrepreneur, Sandeep Nailwal.
This statistic goes against last year's growth observed in the Shiba Inu coin when Elon Musk tweeted that he liked the particular (Shiba) breed of the dog after which the coin's prices went up by 500%. Coupled with the many upcoming projects by Shiba Inu, the real question that arises is whether there is potential growth or not and should you invest?
Buy Shiba Inu Now
Your Capital is at Risk.
What is Shiba Inu?
Just like Satoshi Nakamoto, whose origins still being unknown, created one of the most revolutionary modes of asset exchange which is now used worldwide, in August 2020 another unknown entity called Ryoshi, created Shiba Inu. It is not known whether Ryoshi is a single individual, a group of people or a whole organisation.
Shiba Inu was started as an Alternate coin to Dogecoin, whereas Dogecoin in itself is an alternate coin to Bitcoin. Shiba Inu runs on the Ethereum blockchain and hence offers all the added featured and security benefits of the blockchain. Initially, it was launched as a meme coin and an experiment of the whole Shiba Inu ecosystem. There was a quadrillion coin in supply before the survey period out of which half of it was locked in Uniswap and the rest was given to Vitalik Buterin, founder and CEO of Ethereum.
Shiba Inu has three tokens: SHIB, LEASH and BONE. SHIB is the first to be listed on Shiba Inu's own Decentralised Exchange called Shiba Swap. It can be owned in large amounts and has an immense asset flow. LEASH has the least number of tokens out of the three but promises incentivizing rewards for owners and holders.
BONE falls in between the former two when comes to liquidity but it is a governance token and its holders can vote on upcoming projects by Shiba Inu. Shiba Inu is also coming with art related projects and has already gathered a creative group of artists calling the whole project Shiba Inu Incubator.
Is It Worth Buying After the Dip and Will There Be a Price Hike?
With projects like Shibarium and Shiba Inu Metaverse launching in the upcoming months, the token seems like a lucrative option. There will be better and faster transactions and the metaverse will keep you in touch with latest upcoming AI and Virtual projects coming up in the Cryptocurrency sector.
Even though there are visible benefits, Shiba Inu might not be the best investment that you can make. It definitely has come a long way from its inception but there are still other tokens apart from the three provided by Shiba Inu which far outweigh them when it comes to Benefits provided and with its asset flow frozen, there is no guarantee about a price hike.
Another Memecoin You May Check Out
Another meme coin that is gathering a lot of attention is Tamadoge which in the wake of Dogecoin and Shiba Coin opens up opportunity for the owners and holders to Play and Earn this asset simultaneously. It has been one of the most hyped P2E cryptocurrency for some time as its presale was a huge success, already selling a sub total of 1 billion Tokens.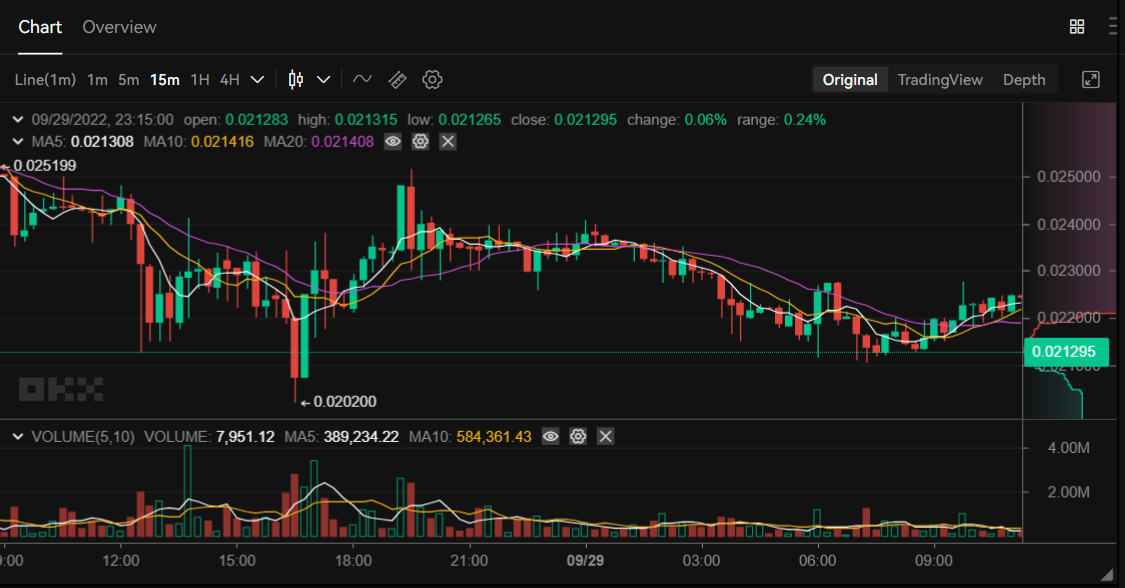 Tamadoge on OKX Platform
Now it has been listed on one of the most famous Decentralised Exchange, OKX. We can expect a rise in Tamadoge's popularity and users as out of the 1 billion, Tamadoge has already hit a trading volume of 224 million. Even though it has only a bit more than 15000 holders, on the face of it, Tamadoge seems like a good option and is recommended for anyone who is seeking to enter the P2E ecosystem.
Buy Tamadoge Now
Your Capital is at Risk.
Read More
Tamadoge – Play to Earn Meme Coin
Earn TAMA in Battles With Doge Pets
Capped Supply of 2 Bn, Token Burn
Presale Raised $19 Million in Under Two Months
Upcoming ICO on OKX Exchange
Join Our Telegram channel to stay up to date on breaking news coverage