Intro
Many traders continue to short AMC Entertainment Holdings, Inc. (NYSE:AMC) due to the sustained pattern of lower highs on the technical chart. Over the past three months (which was an encouraging period for the sector and equity markets in general), shares of AMC Entertainment are down over 11%. This means that investors suffered an opportunity cost of at least 20% by being invested in this name over the above-mentioned time period. When one factors in the ramifications of inflation, that opportunity cost may be in fact even more.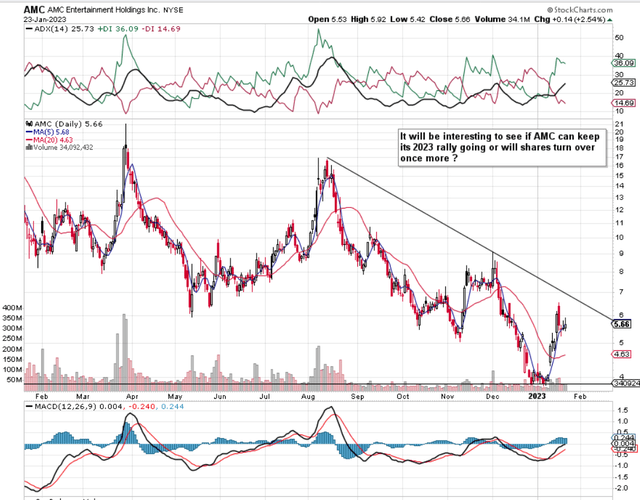 On the company's third-quarter earnings call, when the CEO was pressed on why AMC shares have tumbled so much in recent months, he turned to the Ukraine war and the inflation ramifications that have come with this. Furthermore, concerning the movie theatre industry in general, we have already seen the likes of Cineworld filing for bankruptcy last year and how this has also affected the industry in recent times. In saying this, the CEO was adamant on the call that the problems or fears surrounding AMC's business at present are not due to covid-19 or streaming services which many may see as a direct competitor to the movie theatre business. The principal problem in his opinion is that operators continue to suffer from a shortage of movies.
At present (especially on the Covid front), what the CEO is saying is true. However, bears will state that the risk of another pandemic casts a shadow on AMC's business in the context of how far the market will let shares rally going forward. Management continues to focus on areas it can control which include screen renovation, installation of laser projectors, and the recent Zoom partnerships, to name but a few. It is hoped the company's return on assets will increase in due time from these initiatives.
From our standpoint, despite how much AMC stock is oversold, the company's valuation, profitability metrics, and balance sheet do not justify a long-term buy-and-hold strategy here. Trailing 12-month net earnings come to -$820 million and positive operating cash flow still seems to be a good distance away. In short, AMC, despite its rally over the past couple of weeks, remains on the ropes.
Short-Term Opportunity
Over the short term, however, we see an opportunity for the following reason. Firstly, implied volatility in AMC is very high right now (especially in the March cycle, which we see below) and all the fear continues to remain to the downside, which we can see from the elevated price of the stock's put options as opposed to its equidistant call options. Suffice it to say, being a liquid stock and with shares trading well under $6 a share, we can sell a put ratio spread in the March cycle which gives us a very high probability of profit, limited risk, and a very attractive return on capital setup.
Secondly, forward-looking earnings revisions have received a timely boost in recent months, which has encouraged the market. The earnings estimate for the fourth quarter now comes in at -$0.19, which is a 35%+ improvement over the past 30 days alone, and with bottom-line profitability expected to continue to improve. Therefore, given our strategy has a time element to it, our put ratio should be fine if present trends persist over the coming weeks.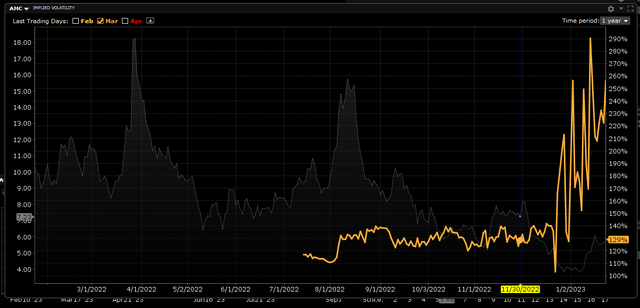 Furthermore, as we see below, the sale of the $5/$4 put ratio spread (where we sell twice as many $4 puts as opposed to the corresponding purchase of $5 puts), comes in at $0.74 per single ratio. This setup means our breakeven in this setup is $2.26 per share of AMC (current share price comes in at $5.66) and our probability of profit is well over 80%. The potential reward is $174 per ratio, which takes place if the stock sits at our short strikes at expiration ($4 per share). Furthermore, because the stock is cheap (in dollar terms), we can limit our risk if needs be by rolling put options out in time to bring down our cost-basis even more. Again, the availability of both monthly and weekly options is a major advantage if indeed one needs to defend the position.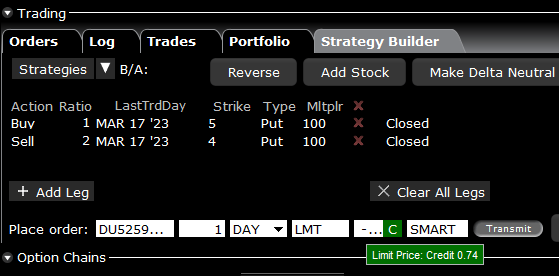 Conclusion
Although AMC Entertainment Holdings, Inc.'s share price has been on the ropes for some time now, AMC stock has started 2023 really strongly due to improving trends in the company's expected earnings. Considering the stock's high level of implied volatility and its associated option liquidity, we like the risk/reward setup of the AMC ratio spread described above. We look forward to continued coverage.