Arcus Biosciences (NYSE:RCUS) is a biopharmaceutical company specializing in cancer therapeutics that are operating at the clinical stage. Their lead candidate, domvanalimab, has displayed potential through trials for metastatic non-small cell lung cancer (NSCLC).
Despite any difficulties associated with its mode of activity and competition from other firms, Arcus Biosciences' dedication to the development and fresh treatments for oncology makes them an inviting choice for investors in the biotechnology sector.
Financials Signal Growing R&D Investment
At the end of December 2022, Arcus Biosciences had cash, cash equivalents, and marketable securities totaling $1.1 billion; this was a significant increase from the $681 million at the end of 2021, mainly attributable to Gilead's injection of $725 million in January that year. The company expects its 2023 cash utilization to be between $300 – 350 million which should cover operating costs until 2026.
For the fourth quarter of 2022, revenues totaled $34 million as compared to those of the same period in 2021 which were recorded at $355 million. Comparing revenues between two different periods can be tricky when there was an anomalous event during the earlier period, such as in the fourth quarter of 2022 and 2021. The latter had an impressive $355 million due to Gilead's exercise of their options which triggered recognition of license revenue. When looking at the larger trend and excluding outliers we can see that there has been somewhat stable and steady revenue growth for the company over the last few years.
License and development service revenues amounted to $26 million following an agreement with Gilead (NASDAQ:GILD), while collaboration revenue measured up to $8 million due to an arrangement with Gilead for access to Arcus's R&D pipeline. For the entire year of 2022, total revenues reached $112 million versus $383 million for 2021.
During the final quarter of 2022, expenses related to R&D amounted to $80 million, as opposed to the $51 million recorded for the corresponding quarter in 2021. The surge resulted from the growth of Arcus's clinical and developmental undertakings, which raised expenses by $60 million. However, this was partially balanced by an increase in reimbursements for shared costs from Arcus's partnerships, mainly the Gilead collaboration, which saw an expansion in December 2021, amounting to $31 million.
The escalation in net R&D expenses after reimbursements can be attributed to the expansion of Arcus's clinical and developmental operations, as more patients were enrolled in ongoing and new research initiatives. This led to a $12 million rise in net clinical expenses and a $9 million growth in net production expenses. Furthermore, the expansion of Arcus's workforce contributed to a $5 million increment in net employee compensation costs.
In Q4 2022 they had gross reimbursements measuring $49 million a significant increase from $18 million quarter over quarter, respectively, for shared costs originating from its partnerships, with the Gilead collaboration being the primary contributor. For the complete years of 2022 and 2021, R&D expenditures amounted to $288 million and $257 million, respectively. These figures comprise gross reimbursements of $161 million for 2022 and $25 million for 2021, primarily from shared expenses with Arcus's collaborations, most notably the Gilead collaboration, which underwent expansion in December 2021.
Pivotal Phase 3 Trials Pending For Multiple Indications
Arcus Biosciences boasts a diverse range of products, with domvanalimab being one of its key offerings. In 2022, Arcus and Gilead enhanced their developmental approach for domvanalimab, encompassing eight active Phase 2 and Phase 3 trials. These investigations focus on evaluating domvanalimab-based combinations for NSCLC and GI malignancies. Currently, the companies are conducting four ongoing registrational Phase 3 trials: three targeting various NSCLC scenarios and one aimed at upper GI cancer. During the final quarter, Taiho Pharmaceutical, a partner of Arcus in Japan and other Asian regions, chose to partake in two Phase 3 trials involving domvanalimab combinations: STAR-121 for NSCLC and STAR-221 for upper GI cancer.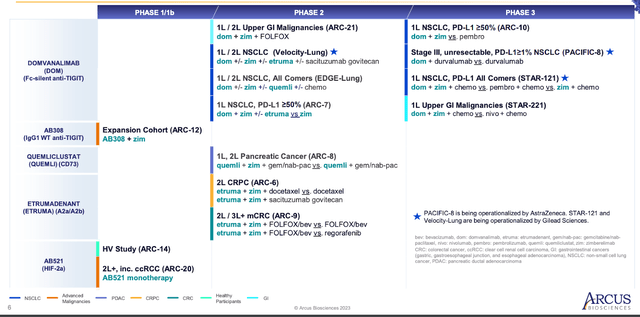 Arcus Biosciences' portfolio also includes etrumadenant, an A2a / A2b adenosine receptor antagonist. In the last quarter, Arcus and Gilead commenced the VELOCITY-Lung Phase 2 platform study, managed by Gilead, which investigates combinations of domvanalimab, etrumadenant, and zimberelimab in advanced NSCLC. ARC-6, a Phase 1b / 2 study assessing using etrumadenant and zimberelimab with docetaxel in metastatic castrate-resistant prostate cancer, is expected to yield data from the randomized cohort in 2023. Similarly, data from ARC-9, a Phase 1b/2 study looking at etrumadenant combinations in metastatic colorectal cancer (mCRC), is also anticipated in 2023.
Another product in Arcus Biosciences' lineup is Quemliclustat, a small-molecule CD73 inhibitor. In the fourth quarter, Arcus and Gilead initiated the EDGE-Lung Phase 2 platform study, which examines domvanalimab, quemliclustat, and zimberelimab-based combinations in advanced NSCLC. Progression-free survival and overall survival data from all patients in the Phase 1 / 1b ARC-8 trial, which assesses quemliclustat in combination with chemotherapy with or without zimberelimab for first-line pancreatic cancer, is expected during the first half of 2023. In the ongoing Phase 2 ARC-21 study, Arcus and Gilead plan to introduce one or more cohorts involving quemliclustat-based combinations in GI cancers.
AB521, a HIF-2 inhibitor, is another addition to Arcus Biosciences' diverse product range. In the fourth quarter, Arcus finished the first cohort of ARC-20, which is a Phase 1/1b study in oncology using AB521. Currently, Arcus is enrolling participants in Cohort 2, which evaluates a 50 mg daily dose that may achieve higher drug concentrations than the marketed competitor. Initial findings from ARC-20 are expected in late 2023 or early 2024. A Phase 2 study examining AB521 in conjunction with other agents is planned for the latter half of 2023.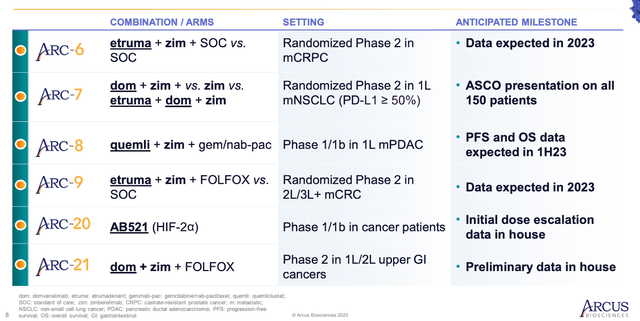 In addition to its existing products, Arcus Biosciences is involved in several new initiatives. One such program focuses on AB598, their anti-CD39 antibody, with plans to begin a Phase 1 trial involving cancer patients during the first half of 2023. Another program, centered on AB801, a powerful and highly selective Axl inhibitor, is set to launch a Phase 1 trial in 2023. The initial development strategy will likely concentrate on treatment-resistant cancer variants, such as STK11-mutant NSCLC. Furthermore, Arcus anticipates progressing its first candidate targeting inflammation, AB375, a highly selective KIT inhibitor, into clinical trials by early 2024.
ARC-7 Study For Metastatic MSCLC Shows Positive Results
Gilead Sciences and Arcus Biosciences have reported encouraging outcomes from the latest analysis of the ARC-7 study, which involved metastatic NSCLC patients without EGFR/ALK mutations and with PD-L1 TPS ≥50%. The study examines the use of Fc-silent anti-TIGIT monoclonal antibody domvanalimab alongside anti-PD-1 monoclonal antibody zimberelimab and domvanalimab combined with zimberelimab and etrumadenant, in comparison to just the zimberelimab monotherapy.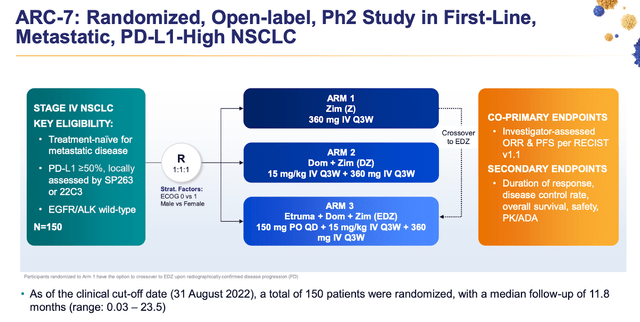 Both the doublet and triplet treatments demonstrated substantial enhancements in median progression-free survival and six-month rates when compared to zimberelimab monotherapy. The risk of disease progression or death was reduced by 45% for the doublet and even 35% for the triplet.
Furthermore, the study revealed that the domvanalimab-inclusive study arms exhibited clinically significant improvements in objective response rate (ORR) relative to zimberelimab monotherapy. The confirmed ORR for the zimberelimab monotherapy arm, domvanalimab-doublet arm, and domvanalimab-triplet arm were 27%, 41%, and 40%, respectively.
These positive findings highlight the potential therapeutic advantages of inhibiting the TIGIT pathway and bolster confidence in the ongoing Phase 3 studies. The combined therapies may present a novel approach to treating NSCLC, with the study being the largest prospectively randomized Phase 2 investigation of anti-TIGIT and anti-PD1 antibodies. The study's success signals a bright future for Arcus Biosciences' continued development.
Competitive Differentiation Via A Novel Approach Towards TIGIT Pathway
Arcus Biosciences has a competitive advantage over its peers in the development of its candidate drugs due to its unique approach to targeting the TIGIT pathway. While there are other drugs in development that target the TIGIT pathway, Arcus's approach of using an Fc-silent anti-TIGIT antibody in combination with an anti-PD-1 antibody is novel and has shown promising results in clinical trials.
Compared to other TIGIT-targeting drugs, which often have Fc regions that can lead to unwanted immune system activation, Arcus's Fc-silent antibody reduces the risk of adverse effects. Additionally, the use of a combination therapy approach with an anti-PD-1 antibody has shown to be more effective than monotherapy in clinical trials.
In comparison to other immunotherapies, such as checkpoint inhibitors, many of Arcus's drugs have a more targeted mechanism of action, focusing on specific pathways in the immune system rather than broadly stimulating the immune response. This targeted approach may lead to a better safety profile and reduce the risk of adverse events.
Mechanistic and Drug-Specific Trial Risks
While Arcus Biosciences has promising drug candidates in its pipeline, there are potential risks that may prevent these drugs from functioning properly. Etrumadenant is an A2a/A2b adenosine receptor antagonist that works by blocking the adenosine signaling pathway. Even though this approach has some potential advantages, it poses a risk of disrupting other biological processes. Adenosine is crucial in many physiological tasks, including cardiovascular and kidney regulation. Additionally, research indicates that adenosine displays anti-inflammatory qualities; therefore, blocking its signaling pathway could increase inflammation levels.
Wrap Up
Arcus Biosciences has the potential to become a leading force in oncology in the coming years. The company's promising drug candidates, including the anti-TIGIT antibody domvanalimab, put it in a good position to benefit from the increasing demand for novel immunotherapies. Furthermore, the recent positive results of their Phase 2 ARC-7 study of metastatic non-small cell lung cancer patients further enhance its appeal. Although there are certain risks associated with drug development, such as clinical trial failures and regulatory obstacles, Arcus's robust scientific staff and partnerships, along with its financial security, make it an attractive investment opportunity for those seeking exposure to biotechnology.